Harold Webb
Date of Death: 07-03-2021
Funeral Service : 07-24-2021
---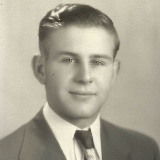 Harold Dean Webb, 87, passed away peacefully on Saturday, July 3 at the Gower Convalescent Center in the loving presence of his wife and two children. 
Born to Oscar, Sr. and Virginia (Linville) Webb on November 12, 1933, Harold Dean spent his youth working on the farm in the Weston area and graduated from West Platte High School in 1951. He married his sweetheart Geraldine Brewster on August 14, 1953, at the Camden Point Baptist Church. They settled their family in the Weston area, and he continued his life as a farmer, raising row crops, tobacco, and cattle. 
Harold Dean is preceded in death by his parents and his two brothers, Oscar, Jr. and David. 
He is survived by his wife Gerry, his daughter Karen Payne and her husband Steve, his son Bryan and his wife Roni, his grandson Scott Payne and his wife Kelli, his granddaughter Leslie (Payne) Frazer and her husband Justin, his youngest grandsons Blake Webb and Dylan Webb, his great-grandsons Nolan and Trent Payne, and his great-granddaughters Audrey and Kathryn Frazer.
Graveside services will be Saturday, July 24th at 11:00 a.m. at Pleasant Ridge Cemetery in Weston, MO.
Arrangements, Hixson-Klein Funeral Home, Gower, MO.

---