Harold Lee Smith
Date of Death: 07-02-2019
Interred: Mt. Zion Cemetery
Funeral Service : 07-09-2019
---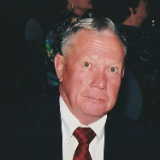 Harold Lee Smith, 86, of Gower, MO passed away July 2, 2019.
He was born on March 22, 1933 to Harold Rotchford and Alma Lee (Poage) Smith in Gower, where he grew up and graduated in 1951 from Gower High School. He served his country in the U.S. Army with the Military Police from 1953 to 1955.
November 14, 1959 he was united in marriage to Barbara Lou Osburn. After their marriage, they lived in Ft.Worth, TX, and in 1967 they moved to the family farm, where Harold built their home, farmed, and worked at TWA.
Harold was a member of Mt. Moriah United Methodist Church. He and Barbara accompanied the Wesley Foundation on mission trips to Gulf Port, MS and Caruthersville, MO. Harold was also a member of the Masonic Lodge #269 in St. Joseph and was a former member of the Gower American Legion #393, to which he donated the bugle for military honor services. He also served on the Clinton County Zoning Board for 20 years. 
He worked for General Dynamics in Fort Worth, TX, the FAA in Olathe, KS, and retired from TWA in 1993 after 26 years. Harold was an avid gardener, donating hundreds of pounds of fresh produce to Second Harvest Community Food Bank for 25 years. He enjoyed working in the yard and being outdoors, especially watching and playing with his outdoor farm cats and kittens. He also loved to travel and visited all 50 states, Australia, Greece, the Caribbean, and cruised through the Panama Canal. Harold was a wonderful, loving, and generous husband, dad, grandpa, and friend. 
Harold was preceded in death by his parents; brother Gene Smith; and sisters Mary Jo Bent, Helen McDaniel, and Sarah Norris.
He is survived by his wife Barbara Smith; children Laura Naas and husband Dan, Danny Smith and wife Lori; grandchildren Valerie (Dustin) Hatcher, Amy Naas, Kristen (Mike) Fernandez, Stephen Smith, and Evan Smith; several nieces and nephews; other relatives, and many friends. 
Masonic Lodge Service: 5:00 p.m. with Visitation following until 8:00 p.m. Monday, July 8th at Gower Christian Church AFC Building.
Funeral Services: 10:00 a.m. Tuesday, July 9th at Hixson-Klein Funeral Home, Gower 
Burial: Mt. Zion Cemetery, Gower with military honors
Donations may be made to Mt. Moriah United Methodist Church.

---