Gini Boswell
Date of Death: 05-19-2023
Interred: Ridgely Cemetery
Funeral Service : 05-27-2023
---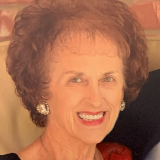 Virginia "Gini" Boswell, 83, of Lubbock, TX passed away, May 19, 2023.Gini was born August 5, 1939 to Woodrow Decker and Virginia Ellen (Todd) Decker in St. Joseph, MO. She spent her childhood near Edgerton, MO and attended East Buchanan High School.
Gini married Buddie Boswell, also from the Edgerton area, on October 27, 1956 and moved to Columbus, GA where Buddie was stationed with the US Army. After the birth of their first child, SuLin, they moved back to Edgerton where they raised their family of four.  
Gini co-founded and operated The Union Mill Opry Country Music Show. She and Buddie worked side by side to entertain thousands of country music fans over many decades of the show's operation. Gini not only sang harmony, greeted customers, cooked food for entertainers and patron concessions, maintained stage apparel, and sold show merchandise, but she performed secretarial duties as well. She typed mailing lists and brochures, answered phones, prepared promotional packages, and became the opry photographer all the while raising her children and grandchildren on and off the stage. 
Virginia was a member of the Edgerton United Methodist Church and held the position as the church pianist for 30 years. As the music director for Vacation Bible School many of those years, she impacted countless young people in the community. 
Gini was preceded in death by her parents, sister (Paulette), brother (Woodie), son (Randy), and her husband (Buddie), who passed away on Sept. 16, 2021. 
Gini is survived by her daughters, SuLin Sehorn, Penni (Todd) Thompson, Kandi (Terry) Stephens; twelve grandchildren, Chasity (Kevin) Jones, Austin Sehorn, Sara Meyerkorth, Jenna (Ryan) Monreal, Emily Sisk, Hallie (Spencer) Ford, Thad Zuber, Theron Zuber, Hunnie Zuber-Stephens, Tara Steward, Regan McCurdy, and Zachary Boswell ; several great-grandchildren; half-sisters, Debbie Klein and Melissa Mahloch; several nieces and nephews, other relatives and many friends. 
Funeral Service: 10:00 a.m. Saturday, May 27th at Hixson-Klein Funeral Home in Gower, MO. 
Visitation: 6:00-8:00 p.m. Friday at the funeral home.
Burial: Ridgely Cemetery

---