Gene Heggestad
Date of Death: 03-02-2019
Interred: Lathrop
Funeral Service : 05-11-2019
---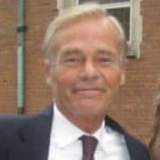 Eugene ("Gene") Trace Heggestad, was born in Stoughton, Wisconsin on March 6th, 1945 to Reuben P and Betty J. (Jackson) Heggestad. On March 2nd, 2019, he was lovingly embraced by his wife and children, as he went to his heavenly home. Gene was preceded in death by his parents and his brother Gerald. Gene's family moved to Saint Joseph when he was in 7th grade and he attended Noyes school and Central High School. His family moved to Fort Dodge, Iowa in the middle of his senior year. He graduated from Fort Dodge High School.  
He enlisted in the Army, went to Officer Candidate School and spent a year in Vietnam. He was awarded the Bronze Star during his time there. The Bronze Star Medal is a United States decoration awarded to members of the United States Armed Forces for either heroic achievement, heroic service, meritorious achievement, or meritorious service in a combat zone. Following his honorable release from the military Gene was a successful business man. In his spare time, he was an avid fisherman, a lover of sports, gardening, oldies music, and most of all, his family. He also grew to have a love for cats. 
In 1969 he married the love of his life Claudia Tospon. They met in 7th grade in the middle of the year when his family moved to Saint Joe. He was the most handsome boy she had ever seen; she told the girl sitting next to her in class, "I'm going to marry him someday!" They got engaged on a Wednesday and married three days later in Spencer Iowa. Over the years they lived many places including Overland Park, KS, Wichita, Kansas, Erie, Pa and the last 27 years in Saint Joseph. 
Gene is survived by his wife, Claudia, children, Hooker (Charity) Heggestad, Lafayette, Colorado, Christine Heggestad, Leawood, Kansas. His four grandchildren, Hank, Arwen and Araya Heggestad, Lafayette, Colorado and Lauren Salyer, Leawood, Kansas. He is also survived by brothers, Robert, Washington DC, Richard, Wichita, Kansas, David, Eugene, Oregon, and sister Diane Bjornstad, Okoboji, Iowa.
Gene has been cremated and a farewell service will be held May 11, at 1:00 at Lathrop Cemetery, Clinton St, Lathrop, MO 64465 
Flowers are appreciated and for those wishing to make a contribution, the family requests they be made to, Friends of the Animal Shelter, St. Joseph, MO
Arrangements Hixson-Klein Funeral Home, Gower

---