Fran Pelaar
Date of Death: 09-28-2019
Funeral Service : 10-05-2019
---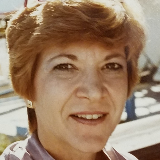 Fran Pelaar, 71, of Gower, MO passed away, September 28, 2019.
She was born on February 7, 1948 to Frances and Mary (Toth) Nemeth in Redbank, NJ. Fran grew up in Woodbridge, NJ where she graduated high school. She then received her Bachelor's in Nursing from Trenton State University and her Master's in Psychology from Rutgers University. 
On June 12, 1982 she was united in marriage to Richard Pelaar. After their marriage they lived in Lake Tahoe and in 1989 moved to Gower where they made their home.
Fran was a nurse and worked with trauma patients, heart patients and organized AIDS support groups. She enjoyed playing the piano and being around people.
She was preceded in death by her parents.
Fran is survived by her husband, Ric Pelaar; daughter, Megaan Pelaar and husband Robert Chavez; son, Matt Pelaar and Rachael Light; grandson, Ryan Dicks; niece, Christina Thoman; other relatives and many friends.
Memorial Service: 2:00 p.m. Saturday, October 5th at Hixson-Klein Funeral Home in Gower with visitation following until 4:00 p.m.

---