Elizabeth Ann Wilson
Date of Death: 12-30-2018
Interred: Ridgley Cemetery
Funeral Service : 01-03-2019
---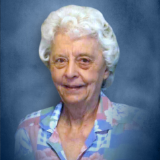 Elizabeth Ann Wilson, 89, of Kansas City, MO passed away December 30, 2018. 
She was born on March 12, 1929 to Conrad and Elizabeth (Schaefer) Antes in Northern Heights, MO where she grew up and graduated from North Kansas City High School.
On April 30, 1948 she was united in marriage to Charles Melvin Wilson. After their marriage they lived in the Northern Heights Community where they made their home. Charles Melvin passed away June 10, 2003.She was a member of Northern Heights Baptist Church in Kansas City. Elizabeth worked for Riverside Red X and Camdex Corporation. She enjoyed working, quilting and spending time with family and friends.
Elizabeth was also preceded in death by her parents, brother Conrad Antes, Jr.; daughter-in-law Kimberly Wilson; and sister-in-law Betty Antes. 
She is survived by her son Mike Wilson; daughter Sandy Perry and husband John; grandchildren Erica (Jason) Brown, Jason (Susan) Perry and Joshua (Stephanie) Wilson; seven great-grandchildren Morgan, Walker, and Mason Brown, Wyeth, Emery, and Reese Perry and William Wilson; other relatives and many friends.
Funeral Service: 11:00 a.m. Thursday, January 3rd at Hixson-Klein Funeral Home, Gower with visitation from 10:00-11:00 a.m. prior to the service.
Burial: Ridgely Cemetery
Donations: Ridgley Cemetery or the American Cancer Society.
---