Eileen Askren
Date of Death: 10-05-2022
Interred: Mt. Zion Cemetery
Funeral Service : 10-09-2022
---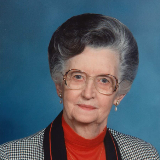 Eileen Jane Askren, 101, of Plattsburg, MO passed away September 5, 2022.
She was born on September 18, 1921, to Calvin and Iva Lee (Harris) Anderson near Hemple, MO and was raised in rural Clinton County. 
 On October 7, 1962, she was united in marriage to Charles Askren and he preceded her in death in 1982. 
She was a seamstress for herself and others and she enjoyed making crafts.
Eileen was also preceded in death by her parents, her brother Merritt Anderson, infant brother and sister, her daughters Charlene Stevens and Anne Matias and two granddaughters Gail Anne Gregalunas and Christina Askren.
She is survived by her sons Lloyd Askren and Dean Askren; grandchildren Mike Askren, Katie (Adam) Thomas, Amy Blake and Heather (Matt) Martin; six great-grandchildren Nick, Brianna, Braden, Brooke, Stephanie and Josh; other relatives and many friends. 
Visitation: 1:00-2:00 p.m. with Funeral Service at 2:00 p.m. Sunday, October 9th at Hixson-Klein Funeral Home in Gower, MO 
Burial: Mt. Zion Cemetery, Gower, MO

---