Edward Otto
Date of Death: 01-12-2022
Funeral Service : 05-07-2022
---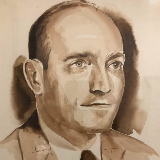 Edward Otto, 101, of Kansas City, MO passed away on January 12, 2022. Ed, also known as Poppy, touched the lives of everyone he encountered and is remembered for his calm and happy demeanor. He was known for "I can't find anything to complain about" and always bringing smiles to faces. He expressed his gratefulness and love on a daily basis which is an inspiration to his family and friends alike. In addition to his steady and warm personality, Ed had many hobbies including Navajo weaving, bird watching, gardening, antiquing, wood working and photography. Most of all Ed cherished his family and was a devoted husband, father, grandfather and great grandfather. 
Ed was born on September 9, 1920 to Edward John and Alberta (Hassebroek) Otto in Riley, Kansas. Ed grew up in Riley, Kansas where he graduated from high school. He then attended Kansas State University, joined the Pi Kappa Alpha fraternity and received his Bachelor's Degree in Industrial Chemistry. In September 1943 Ed began his WWII Navy military service at Cornell University for officer's training. On December 24, 1943 Ed married Dixie (Poynter) Otto and a few months later set sail on the USS Vicksburg for the South Pacific. Ed fought at Okinawa, Iwo Jima and was in Tokyo Bay for the signing of the Treaty over Japan in the fall of 1945. After the war, Ed returned to his beloved wife Dixie (Poynter) Otto, settling in Kansas City and raising their three daughters. After several moves to different states over a 30 year career with Ethyl Corp as General Manager of Administration, Ed retired in 1983. Ed and Dixie returned to Kansas City and enjoyed a second home in Harbert Michigan. After Dixie's death in 1991, Ed married Mary (Sims) Otto and they had a wonderful marriage traveling and visiting family and friends until Mary preceded him in death in 2010. 
He was also preceded in death by his parents; brother James Vincent Otto; and his daughter, Margery Kathryn Otto. 
Ed's legacy will be carried on by his daughters, Margaret Otto and Martha Richards; grandchildren, Davis (Kristin) Parker, James Parker, Richard Parker, Devann (Phil) Bodell, Brendan Ard, Sam Morrison, Allison Ard, William Ard, Elissa (Scott) Swartz, Grace Miller, Samuel Miller; great-grand children, Ezra Parker, Cora Parker, and Tessa Bodell; step-children, Carol (Troy) McConnell and James Sims; step-grandchildren, Scott (Sara) McConnell, Robert (Alisa) McConnell, Shelley (Chris) Hanson and their families including many great grandchildren; other relatives and many friends.
Memorial Service: 10:00 a.m. Saturday, May 7th at Hixson-Klein Funeral Home, Smithville.
Visitation: 6:00-8:00 p.m. Friday at the Hixson-Klein Funeral Home, Smithville.
Donations may be made to Chikaming Open Lands. https://www.chikamingopenlands.org/about

---