Edna Coldsmith
Date of Death: 09-16-2023
Funeral Service : 11-16-2023
---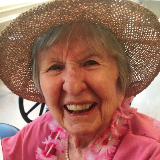 Celebration of Life Thursday, November 16th at 11:00 a.m. at First United Methodist Church in Emporia, KS with Visitation from 10:15-11:00 a.m. prior to the service.  
Edna E. Coldsmith passed away peacefully on Saturday, September 16, 2023, at the Gower Convalescent Center in Gower, MO. She was 95.
Edna was born May 1, 1928, in Weleetka, OK to William D. Howell and Theresa M. (Newmaster) Howell. Her family later moved to Okmulgee, OK, where she graduated high school in 1946. She attended the Texas State College for Women in Denton, TX, and transferred to The University of Tulsa, where she graduated in 1951 with a Bachelor of Arts degree.
She taught elementary school in Overland Park, KS where she met the love of her life, Donald C. Coldsmith in a social circle of friends. Edna and Don married on November 6, 1960, and blended their families, then added daughter Connie to the mix. They soon built a home in the country in Emporia, KS, where they enjoyed raising the girls, Appaloosa horses, chickens, and cattle. Although Edna loved the country life, it was never a good day for the person who tracked barnyard animal manure into the kitchen! She enjoyed being home while the girls were growing up, volunteering as a 4-H leader, cooking and sewing for the family, as well as running the household. Some of her most cherished moments were time spent at Camp Wood YMCA on outings with the Flint Hills Saddle Club, as well as pasture picnics in the Flint Hills of Chase County.
In 1970, Edna was diagnosed with breast cancer, having a radical mastectomy, and in 1971 became the first Reach to Recovery support person in Emporia for the American Cancer Society. She loved helping and encouraging other women with a similar diagnosis. She was active in the Lyon County Republican Women's organization, where she served as co-president in 2002, and also enjoyed many years working the local election polls and boards, while continuing her work with Reach to Recovery.
In 1985, Edna took recertification classes, renewing her teaching certificate in 1986, and began substitute teaching on a regular basis. Her passion for the classroom then found her teaching 2nd grade full time at Neosho Rapids Elementary School, until her retirement in 1994. That same year, Edna was asked by the District Court system to serve on a committee and citizens review board for Social and Rehabilitation Services, which she was involved with for many years.
Edna and Don were very active in the First United Methodist Church in Emporia, leading a Sunday School class together each week. Her love for working with children then presented an opportunity in the form of La Esperanza mission school, sponsored by the church, and led by Edna. It was a supervised after school program for the Spanish speaking community in Emporia, and brought her so much joy. She was known as "Abuela", or Grandma, to each of the children, as well as their families. During her time at La Esperanza, she enrolled in a "survival Spanish" class at ESU so that she could communicate more effectively, took them on a field trip to the Historical Museum in Topeka, and even took them to meet the Governor. After handing the reins to the new director in 2001, she continued to serve on the mission committee. 
Edna loved to entertain, and people were always welcome at Edna and Don's home in Emporia. Happy Hour was held every afternoon, and she could whip up a meal fit for company if someone dropped by unannounced, or if she'd planned it for weeks. She entertained many friends, family, dignitaries and assorted others over the years. One of her favorite dinner parties was held for the cast of the movie "Bad Company", filmed in the area around Emporia and Chase County in the early 1970's. Don was the cast physician during filming, and the family had gotten acquainted with members of the crew, including the main actor Jeff Bridges. Many of the attendees may still be trying to remember what all happened that night, and those that do remember are still laughing about it. Edna and Don also hosted the annual Sunday School Christmas party at their home, which was the highlight of the year for many of those in attendance. Who knew that a "church" gathering could be that much fun?
Edna loved to travel, and used to say that she must be part gypsy. She always enjoyed a good road trip, and she and Don had many of those together. It was a slow-paced way to see much of the country, and she drove while Don read to her the latest chapters of books he was writing, or other literature. Their favorite trips were to the annual convention of the Western Writers of America, held in different locations each year. Edna and Don had many close friends in that organization, and in 1990 she was selected to be on a panel of writers' spouses on the topic of "Trails and Trials of a Writers Spouse", which was a big hit because of the spark and pizazz she brought to the presentation. Other notable trips included a trip with family to Cancun, an Alaskan cruise, and even a trip to NYC for a book signing and some sight-seeing. While the girls were young, there were also many family road trips to the Deep South, the Gulf of Mexico, Washington DC, Colorado and all parts in between. 
Everyone who knew Edna, knew what a character she was, and some of the traits that she will be most remembered for are her quick-witted sense of humor, and her contagious laugh that would light up a room. Edna was diagnosed with dementia in 2011, and throughout the remainder of her life, she continued to live happily, sharing her smile with everyone, and bringing many smiles to the faces of her caregivers. She was a 53-year breast cancer survivor, she had Covid twice, and other health conditions that appeared to be impossible to overcome throughout her life. She even seemed to choreograph the final week of her life by allowing plenty of visits from family and friends, sharing smiles, winks and facial expressions that those closest to her will cherish forever. 
Edna is survived by daughters April Abril, and Connie Lorenzen, Don's daughters Carol (Tenney) Smith, and Glenna Coldsmith; grandchildren Nathan (Tia) Edwards, Lacey (Travis) Taylor, Heather (Tyler) Coldsmith Young, Zachary Donald Young, Cassidy (Joe) Toeniskoetter, and Christian (Jessica James) Whayne; 5 great-grandchildren, with a 6th due in November. 
She was preceded in death by her husband Don, her parents, and sister Jeanne (Randolph) Rhoads, and Don's daughter Leslie (Richard) Whayne.
Edna's family would like to express gratitude from the bottom of their hearts to the angels at Gower Convalescent Center, and Three Rivers Hospice for the amazing care that they have provided over the years, as well as other caregivers at her previous facility who became lifelong friends. 
Cremation has taken place, and a celebration of Edna's life will be scheduled in the fall in Emporia, KS when family and friends can gather together in her honor. 
Memorials in Edna's name may be sent directly to Camp Wood YMCA,  https://campwood.org/donate/
Condolences may be sent to the family through the funeral home website www.hkfuneralhome.com

---