Dorothy Perkins
Date of Death: 06-08-2019
Funeral Service : 06-13-2019
---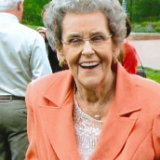 Dorothy Perkins, 93, of Smithville, MO passed away, June 9, 2019.
She was born on February 27, 1926 to Dilly George and Zera Myrtle (Hayes) Miller in Sparks, KS. Dorothy grew up in Sparks where she graduated high school.On December 27, 1947 she was united in marriage to John Arlo Perkins. After their marriage they lived in Lineville, Iowa where they raised four sons. In 1964 they moved to Smithville where they made their home. Her husband, John, passed away July 8, 1992.
Dorothy was devoted to following Jesus all of her life and was gifted with a servant spirit. She was a lifelong, faithful, dedicated member of the First Baptist Church in Smithville where she loved singing in the choir and joyfully taught 3rd grade Sunday school. Dorothy looked forward to singing in the Easter cantatas with Combined Community Chorus for many years.
She was a home health aide and enjoyed visiting patients in their homes. Dorothy loved taking her grandchildren camping at Watkins Mill, shopping, going to Branson, driving to get ice cream, looking for deer and raising petunias. 
She was also preceded in death by her parents, her sons, Steve, Mike and Mark Perkins; and her sisters, Maxine Miller, Erle Kent, and Mary Ellen Martin.Dorothy is survived by her son, Dan Perkins and wife Penny; daughters-in-law, Diana Perkins and Kitty Sheeren; grandchildren, Jennifer Fowler, Michelle Perkins, John (Dena) Perkins, Kelley (Russell) Huff, Tim (Kata) Perkins, Brian (Jessica) Perkins, Morgan (Adam) Kieser, Josh (Eunice) Perkins; great-grandchildren, Jake, Lily, Clara, Judson, Lowell, Alden, John Arlo, Andrew, Ava, Jack, Luci, Taryn and Colin; several nieces and nephews including Bill and Ann Kent and Melladee Perry; other relatives and many friends.
Funeral Service: 6:30 p.m. Thursday, June 13th at the First Baptist Church in Smithville, MO with visitation from 5:00-6:30 p.m. at the church.
Graveside Service: 12:00 p.m. Friday, June 14th at Evergreen Cemetery, Lineville, IA.
Arrangements, Hixson-Klein Funeral Home, Smithville, MO.
Donations may be made to the First Baptist Church for Missions.

---