Donovan Wingate
Date of Death: 06-11-2022
Funeral Service : 06-20-2022
---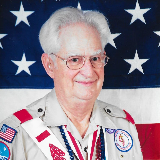 Donovan Knapp Wingate, 91, passed peacefully June 11, 2022. 
He attended Platte Woods United Methodist Church. Formerly he was an active member of the Platte City United Methodist Church. He served on the building committee and was instrumental in establishing BSA Troop 351. He was a devoted family man. 
He is survived by his loving wife, Marilyn Sue (Blankenship) Wingate of the home, daughter Kathryn Kim Palmer (Russell), Lisa Jane Long (Ronald Mark), son David Donovan Wingate (Georgette), stepson Jon Harrington (Theresa), grandchildren Megan Shelton (Marty), Becky Keadle, Christopher Palmer, Kayla Long, Austin Long, Taylor Anne Wingate, David Harrington, great-granddaughter, Emerald Shelton, numerous nieces and nephews, and sister-in-law Ann Wingate. 
He was preceded in death by his beloved first wife Christine Wingate, parents, brothers Bill Wingate (Janet), Herbert Wingate, and sister Frances.
Don grew up in north central Missouri and during the Korean Conflict he served two years in the U.S. Army at Ft. Knox, Kentucky. After returning home, he was employed by General Motors until he pursued a career of 35 years with TWA. He was active in Scouting, church, shrine, Platte County Fair Board, youth baseball, and many other community service activities. 
Services will be conducted by the Platte Woods United Methodist Church, 7310 NW Prairie View Rd, Platte Woods, MO on Monday, June 20th with Visitation at 10:00 a.m. and Memorial Service to follow at 11:00 a.m. at the church.
In lieu of flowers, contributions may be made to American Parkinson Disease Association, Platte City United Methodist Church or Platte Woods United Methodist Church.
---