Donald Lee "Buck" Buckler
Date of Death: 04-26-2023
Funeral Service : 06-10-2023
---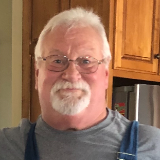 Donald Lee "Buck" Buckler, 68, of Dearborn, MO passed away unexpectedly on Wednesday, April 26, 2023.
He was born on December 5, 1954, to Cecil and Helen Ruth (Belcher) Buckler in Leavenworth, KS. Buck grew up in Dearborn and attended North Platte High School. He later took electrician classes through Hillyard's.
Buck worked for Johnson Controls in St. Joseph, MO for almost 40 years and was an active member of the IUE-CWA Local 86116 where he served as a union steward. He loved his family and friends and had a huge passion for music, playing in several different bands and was known as one of the greatest steel guitar players around. Buck was always busy doing something, from picking a guitar, to singing, to mushroom hunting, to fishing, to restoring cars, to watching westerns and the Three Stooges. He enjoyed being on the lake and boating. In 2018, Buck moved to Omaha, Arkansas where he and Rejeania "Jeanie" Moore made a beautiful home for four years, before he returned to Dearborn to be "home". Buck loved making people laugh, playing jokes and pranks on everyone and was known as the sandwich bandit to his work buddies. He was a wonderful dad, grandpa, brother and uncle and had the biggest heart, always treating his friends like family. He's now reunited in heaven with his family and friends who have passed, and one can only imagine the music being played.
He was preceded in death by his parents Cecil and Helen Buckler; his daughter Jennifer Davis; his brothers Wayne Belcher and Jackie Ray Buckler; and his nephew Danny Ray Williams.
Buck is survived by daughter Melissa Buckler; son Donald Ray Buckler; sister Susie (Bill) Hanway; brothers Danny (Linda) Buckler and Cecil (Helen) Amos; grandchildren Katie (Kyler) Taylor, Dylan Lee Dennis, Jacob Dennis, Dylan Ray Davis, Lexie (Jeff Skeen) Davis; great-grandson Sawyer; several nieces, nephews, other relatives and many friends. 
 A Celebration of Life will be held from 6:00-8:00 p.m. on June 10th at the Dearborn Cafe.

---