Denton L. Benson
Date of Death: 01-12-2022
Interred: Ridgely Cemetery
Funeral Service : 01-17-2022
---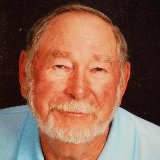 Denton L. Benson, 81, of Dearborn, MO passed away, January 12, 2021.
He was born on May 12, 1940 to Woodrow and Mabel (Huff) Benson in Lonejack, MO. Denton grew up in Lonejack and graduated from Lonejack High School.
On January 3, 2009 he was united in marriage to Darlene (Moreland) Meeker. After their marriage they lived in Dearborn, MO and Holden, MO.
He managed Fairview Farms for many years and later owned and operated Benson Construction. Denton was a member of the Antique Caterpillar Association. He enjoyed riding his Goldwing, reading western books, and competing and pulling tractors.
He was a member of the New Liberty Baptist Church in Oak Grove, MO and attended the First Baptist Church in Holden, MO.
Denton was preceded in death by his parents; brothers, James Wesley Benson and Wayne Benson; sister, Ruthie Brown; and step-daughter, Deborah Jones.
He is survived by his wife, Darlene; children; Denton (Janette) Benson, Twyla (Michael) Lentz and Angela Benson; step-daughters, Jeanette (Joe) Burnor and Pamela Kelsay; grandchildren; Clint Ralston, Andrea Benson, Kyle Ralston, Courtney Smith, Brandy Weigel, Tyler Benson, Luke Wendt, Dylan Wendt, Jacqueline Wendt, Michael Lentz and Christopher Lentz; sixteen great-grandchildren; eight step-grandchildren, ten step great-grandchildren; other relatives and many friends.
Funeral Service: 1:00 p.m. Monday, January 17th at Hixson-Klein Funeral Home, Smithville with visitation from 11:00 a.m. to 1:00 p.m. prior to the service.
Burial: Ridgley Cemetery
Donations may be made to Ridgely Cemetery or the First Baptist Church in Holden.

---