Deane Montgomery
Date of Death: 12-21-2019
Interred: Hebron Cemetery
Funeral Service : 12-21-2019
---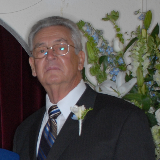 Lloyd Deane Montgomery, 85, of Edgerton, MO passed away December 21, 2019.
He was born on September 20, 1934 to Warren Levi and Ruby (Thacker) Montgomery in Edgerton, MO. Deane grew up in Edgerton and graduated from Edgerton High School.
On August 1, 1953 he was united in marriage to Patsy Ruth Baber. After their marriage they lived in Edgerton where they made their home. His wife preceded him in death on February 24, 2019.
Deane retired from TWA after 30 years of service. He loved to golf and was proud of his 6 holes in one. He was also preceded in death by his parents and one brother, Robert "Mutt" Montgomery.
Deane is survived by his sons Steven Montgomery and wife Nancy, Robert Montgomery and wife Patty, and Kevin Montgomery and wife Betty; grandchildren Jason (Megan) Montgomery, Michael (Nicole) Montgomery, Derek Montgomery, Amanda (Levi) Mallory, Zach (Kristi) Bowser, and Cory (Keely) Bowser; great-grandchildren Meredith, Evan, Max, Jack, Elizabeth, Ava, Zach, Lily, Lucy, and Bailey; brother Herb Montgomery; several nieces and nephews, other relatives and many friends.  
Private family services will be held at a later date.
Arrangements by Hixson-Klein Funeral Home, Gower 
---