David Williams
Date of Death: 07-20-2021
Funeral Service : 07-20-2021
---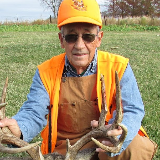 David L. Williams, 76, of Dearborn, MO passed away July 20th, 2021 at the North Kansas City Hospital Hospice House after a battle with cancer. 
David Lee was born May 9th, 1945 to Thomas Elliot and Kathryn Lorraine Williams. He was a 1963 graduate of North Platte High School and attended Crowder College at Neosho, MO. He joined the U.S. Army Reserves, serving 8 years. On October 12th, 1963, he was united in marriage to Martha Jane Snook. To this union were born two sons, Jeffrey Dean and Kevin Lee.
David retired at the end of 2010 from the Missouri Department of Natural Resources (DNR) Drinking Water Program as a Water Specialist III. His primary responsibilities were to provide classroom training and on-site technical assistance to all public water suppliers for 23 Northwest Missouri counties. Before working with DNR, he worked as a regional district manager for a large water district. After retirement, he had his own consulting company. 
David's water related work experience totaled more than 50 years. He held "A" Licenses in both Water and Wastewater and DSIII in Drinking Water Distribution. He received numerous awards and was recognized for his outstanding work ethics and service to the Water Industry. The NW Section of Missouri Water and Wastewater Conference created the David L. Williams Award (an ongoing annual award). David's leadership and integrity set the standards for the award.
David's work in the Water Industry began as a meter reader and heavy equipment operator installing water lines and studying chemistry and mathematics in his spare time which led to him working as a Licensed Water Treatment Plant Operator. David worked for the Dugdale Packing Company for 5 years prior to working in the Water Industry. 
Present memberships include Missouri Water and Wastewater Conference; Missouri Rural Water Association; and America Waterworks Association. Past memberships include American Legion Post #218 of Parkville, MO; Scout Master for Troop 88 of the North Star District; Board Member for Public Water Supply District #7 of Platte County, MO; and Member of the Dearborn, MO Cemetery Board.
David is survived by Martha Jane Williams, his loving wife of 57 years; two sons: Jeffrey Williams - Gladstone, MO and Kevin Williams (Teresa) - KCMO; three granddaughters: Jacquelyn Williams - Gladstone, MO, Halley Williams - Fayetteville, AR, and Leann Williams - KCMO; one great granddaughter: Katherine Williams - Fayetteville, AR; one sister: Linda Whitmore (Larry) – Dearborn, MO; two sisters-in-law: Marjorie Stubbs (Walt) – Edgerton, MO, Dianne Snook – Edgerton, MO; several nieces and nephews; and many friends. 
David was a member of the Dearborn Christian Church for 65 years and served as an Elder of the Church. Per his wishes, he will be cremated and following there will be no services. 
 In his memory, donations may be made to the Dearborn Christion Church, PO Box 13, Dearborn, MO 64439.

---