David Charlton
Date of Death: 11-30-2019
Interred: Community of Smithvillle Memorial Cemetery
Funeral Service : 12-07-2019
---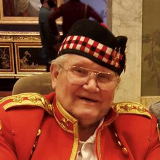 David Charlton, 80 of Smithville, MO passed away Saturday, November 30, 2019.
He was born on January 17, 1939 in Co. Durham England where he grew up and went to school.  David served in the Royal Air Force. 
On December 26, 1958 he was united in marriage to Ocean Scott.  After their marriage they lived in England where their four children were born.  In 1981,they moved to the United States where they lived in California and Arizona.  While living in Arizona they started 7 Charter Schools.  After their retirement they moved to Kansas City, Missouri to be near their youngest daughter, later moving to Smithville.  David owned and operated the Midwestern Kilt Company.  
David was a member of The Church of Jesus Christ of Latter-Day Saints in Kansas City.  He was also the Chief of the Clan Gordon.  David was a very creative, talented artist and musician.  He was a loving husband, father, grandfather and friend.
He was preceded in death by his parents Richard and Margery (Picken) Charlton; son David Charlton; grandson Eric "Ricky" Greene and brother Richard Charlton.
David is survived by his wife Ocean Charlton; one son Danny Charlton; two daughters Dee Goulet and Deborah Cahill and husband Daniel; grandchildren Michele Moore and husband Don, Hannah Greene, Sarah Greene, Ben Greene, David Himes, Kurtis Cahill, Richard Cahill and wife Stephanie, Emma Asher and husband Jonathon, and Elise Cahill; great-grandchildren Christian, Jayden, Eric and Melody; brother Ian Charlton and wife Elizabeth; other relatives and many friends.  
Visitation: 9:00-10:00 a.m. with Funeral Services at 10:00 a.m. Saturday, December 7th at The Church of Jesus Christ of Latter Day-Saints, 6751 NE 70th Street, Kansas City, MO 64119.
Burial: Community of Smithville Memorial Cemetery. 
Arrangements by Hixson-Klein Funeral Home, Smithville.

---