Dave Osburn
Date of Death: 10-02-2019
Funeral Service : 10-09-2019
---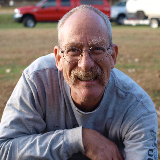 Dave shuffled off his mortal coil and joined the choir angelic on October 2,2019. 
Born on May 31, 1954, Dave's formative years were spent in Gladstone, Missouri, an idyllic 1950's type childhood where no one locked their doors and you came home from playing in the woods when it got dark. Moms banded together and yelled at each others kids when lines were crossed.
Dave loved to travel, mostly by car, and camping was the preferred mode of operation. Dad instilled his life-long love of the Great West through auto trips in the '66 Olds Vista Cruiser wagon with the pop-up camper trailing behind. The Grand Canyon made such an impression on him that, as an adult, he made four inner Canyon hikes, two of them rim-to-rims. There his ashes will be spread, on the North Rim.
He graduated high school from the Northland's Oak Park High in 1972. Following this, he entered the field of lithography (in the printing trade) as a "stripper". It is an archaic, correct description of his career; look it up! He worked at a variety of shops around town, ending up at Art Lithocraft until he left the field in the late 1980's. He then pursued his second career in remodeling construction, and ended up owning his own successful handyman business, which he continued to operate until quite recently.
Dave generally eschewed sport, but was keen on bicycling, riding in several MS150 rides across Missouri with his brother, Tim. He was also instigator of the long-running annual "Lost Weekend" canoe trips on the Buffalo River in Arkansas. He was a "bleeding heart" liberal, a manifestation of his faith in Jesus Christ and His teachings of helping the poor and helpless in the world. He was a member of Mount Olivet Christian Church.
Married for 45 years to the former Vickie Wolfe, they produced two daughters and had two grandchildren, for whom their "Pa" was the greatest man alive. 
Dave resided at the Osburn Enclave near Smithville, having built his home there in 1983.  
He was proceeded in death by his parents, Earl and Merle Osburn and sisters Sandy Lanio and Wendy Rigoli. Surviving are his wife Vickie, brothers Tim and Ted Osburn, daughter Amber Jasper (Kevin),grandsons Corbin and Collin Jasper and daughter Rebecca (Becca) Osburn, as well as many nieces, nephews and cousins.
A wonderful get-together of friends and family is planned for Wednesday, October 9th from 6:30-8:30 p.m. at the Mount Olivet Christian Church, 13120 Mt. Olivet Rd., Smithville, MO 64089. Cremation.

---