Darlene Duncan
Date of Death: 06-26-2019
Interred: Blakely Cemetery
Funeral Service : 07-01-2019
---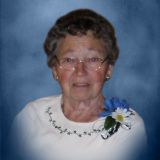 Darlene Duncan, 90, of Easton, MO passed away, Wednesday, June 26, 2019.
She was born on May 17, 1929 to Charles H. and Ada M. (Hessemyer) Roberts in Easton, MO. Darlene grew up in Easton and graduated from Easton High School.
On April 8, 1950 she was united in marriage to Alfred Duncan. After their marriage they lived in St. Joseph, and in 1990 moved to rural Easton. Her husband, Al, passed away, October 18, 2016. Darlene enjoyed gardening and her flowers. 
 She was preceded in death by her parents and son-in-law, Thomas Drannan.
Darlene is survived by her daughters, Twyla Beeney and husband Jack, Karen Duncan, and Ronda Gottswiller and husband Todd; grandsons, Brady Drannan and Cole Gottswiller; other relatives and many friends.
Graveside Service: 10:30 a.m. Monday, July 1st at Blakely Cemetery, Easton, MO.
Visitation: 6:00-8:00 p.m. Sunday, June 30th at Hixson-Klein Funeral Home.
Donations may be made to the cemetery.

---