Charlie Sloan
Date of Death: 05-10-2023
Interred: Mt. Zion Cemetery
Funeral Service : 05-12-2023
---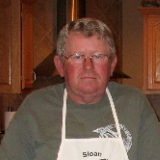 Charles E. Sloan, 73, of Plattsburg, MO passed away, May 10, 2023.
He was born on September 29, 1949 to Carl W. and Mary Elberta (Shannon) Sloan in St. Joseph, MO. Charlie grew up near Plattsburg and graduated from Plattsburg High School in 1967.
On July 18, 1969 he was united in marriage to Mary Jo Evans. After their marriage they lived on their farm northwest of Plattsburg. Charlie was the owner of Sloan Farms where he had a large Black Angus cattle herd and row crop operation. He held an annual cattle sale for 25 years on the farm. Charlie had a vast knowledge of cow/calf operations, which he freely shared with many.
Charlie was a very giving and generous person who helped and supported many neighbors and friends. He was extremely proud of his sons and grandchildren.
He was preceded in death by his parents, and his brother, David Sloan.
Charlie is survived by his wife, Mary Jo; sons. Scott (Terisa) Sloan and Wesley (Rachel) Sloan; grandchildren, Matthew, Stella, Charlie and Will; other relatives and many friends.
Visitation: 6:00-8:00 p.m. Friday, May 12th Hixson-Klein Funeral Home, Gower.
Inurnment: Mt. Zion Cemetery, Gower, MO.
In lieu of flowers donations may be made to the J.W. Lile Memorial Scholarship or the Mt. Zion Cemetery.

---