Brenda Lewis Brookshire
Date of Death: 07-18-2021
Funeral Service : 07-30-2021
---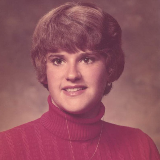 Brenda Kay Lewis Brookshire, 61, of Gower, MO passed away July 18, 2021.
She was born on January 26, 1960 to Warren Keith and Phyllis Nadine (Petty) "Judy" Lewis in St. Joseph, MO. Brenda graduated from Union Star High School. She was in the 6 year Med Program at UMKU and studied for her Masters in Biology from Missouri Western State College and KU. 
On October 4, 1987 she was united in marriage to Richard Wayne Brookshire. After their marriage they lived in San Diego, CA, Japan and in 1992 they moved to Gower where they made their home. Brenda worked for Children's Mercy Hospital in Kansas City, MO and Spelman Memorial Hospital in Smithville, MO. She loved spending time with her family.
She was preceded in death by her parents Keith and Judy Lewis.
Brenda is survived by her husband Richard Brookshire; children Jesse Brookshire, Bryce Brookshire and Blain Brookshire; brother Brian Lewis; other relatives and friends. 
Celebration of Life will be held at 1:00 p.m. Saturday, 31st  at her home.  
Arrangements by Hixson-Klein Funeral Home, Gower.

---