Bobbie Frank Goad
Date of Death: 09-28-2019
Interred: Ridgely Cemetery
Funeral Service : 10-04-2019
---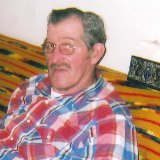 Bobbie Frank Goad, 79, of Edgerton, MO passed away, Saturday, September 28, 2019.
He was born on May 2, 1940 to Herman Lee and Sallie Lousia (Arnold) Goad in Plattsburg, MO. Frank grew up and attended school near Plattsburg.
On May 2, 1959 he was united in marriage to Florence Marie Cockriel. After their marriage they made their home in Edgerton. 
 Frank was a welder and member of Boilermakers Local 83 for 47 years. He enjoyed fishing and hosting fish fry's for friends and family.
He was preceded in death by his parents; stepfather, Shelby Roark; sons, Wayne Goad and Wesley Goad; grandson, Jon Johnson; three brothers, David, Danny, and Tom Goad.
Frank is survived by his wife, Marie; daughter, Janet Art and husband Steve; grandchildren, Rebecca and Jessica Art and Danny Goad; two brothers, Bill Goad and wife Maryann and Steve Goad and wife Beverly; sisters, Ella Dunham and Joyce Burke and husband Gary; several nieces and nephews, other relatives and many friends.
Funeral Services: 11:00 a.m. Friday, October 4th at Hixson-Klein Funeral Home, Edgerton, MO
Burial: Ridgely Cemetery, Ridgely, MO.
Visitation: 6:00-8:00 p.m Thursday at the funeral home.
Donations may be made to the cemetery.
---