Bob Farr
Date of Death: 05-20-2023
Funeral Service : 06-30-2023
---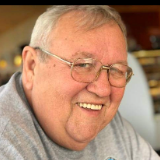 After a long-fought battle, Robert Lee (Bob) Farr, 73, of Gower, Missouri, passed away May 20th surrounded by his loving family.
He was born on May 22, 1949 to Ray and Helen (Garrahan) Farr in Saint Joseph, MO. Bob grew up in Gower MO where he graduated in 1967 from Gower High School.
Bob served in the U S Air Force in Pakistan and Japan in the Security Service. The 6918th RSM/SS in Hakata, Japan was his favorite. In the service his nickname was "Miller". And "Montana Bob" to his biker buddies from Iowa.
He worked with his brother Donnie in farming. And later worked for Farmland Industries as the Oil plant manager for many years.
Bob married Connie Jane Musser on June 15, 1974. They were blessed with two daughters. They owned the Farr Place in Gower from 1984-2000.
In 2005 he was united in marriage to Carol A. (Pearcy Hamm) Sitton. They made a life together in Gower. They enjoyed seven years at the Lake of the Ozarks, before returning to Gower.
He was preceded in death by his parents, brother Donnie, sister Elaine Davis, nephews David, Keith and Michael, and niece, Donna Livingston.
Bob is survived by his wife; Carol; daughters Nicole Farr, TX, and Stacey (William) Sandoval, TX, Tracy (David) Wimberly; son Kenneth L. (Alicia) Hamm; sister, Marianne (Jerry) Jackson; brother John Farr; granddaughters, Mariesa (Cody) Thompson, Ashley Sandoval, Demet (Zach) Key, Brittaney McCravey, Kayla McCravey (Mark William) and Nicole Gibbens; grandsons, Joseph, Zayden and Zeke; great-grandsons Egane, Elyne, Lucien, Elliot, Asher and Wyatt; many nieces and nephews and good friends.
Military Honors will be held at 6:00 p.m. at Hixson-Klein Funeral Home in Gower with Celebration of Life to follow at the Gower Legion Hall on Friday, June 30th.Arrangements, Hixson-Klein Funeral Home.

---