Anna "Ann" Mae Rader
Date of Death: 05-15-2019
Funeral Service : 05-17-2019
---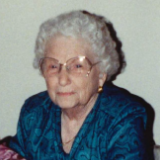 Anna "Ann" Mae Rader, 98, of St. Joseph, MO passed away May 15, 2019.
She was one of 12 children, was the daughter of Walter and Alta (Willoughby) Ruark was born on August 26, 1920 in Taylorsville, KY. In the late 20's her father moved the family from Kentucky to Missouri. Ann grew up on a tobacco farm a few miles from Platte City, MO. She attended Farmer's Rural School and Platte City High School. 
On March 3, 1940 she was united in marriage to Robert "Bob" Rader. They lived a few years in St. Joseph before moving to Kansas City, MO and in 1977 they moved to Alva, Oklahoma where they made their home. To this marriage four children were born, Samuel, Linda, William "Bill" and Rebecca. Her husband, Bob passed away on February 1, 2002. In 2004, Ann moved back to St. Joseph.
Ann worked for several years in the fabric department at TG&Y in Overland Park. The first TG&Y store.
She was a member of the Alva Assembly of God in Alva, OK and later the Family Worship Assembly of God Church in St. Joseph for a few years.  Ann was active in her children's activities with church, school, scouts and campfire where she was the district chairman.
Ann was also preceded in death by her parents, daughter Rebeca "Becky" Castro, five sisters and five brothers.She is survived by two sons, Sam Rader and wife, Kay, Poulsbo, WA, William "Bill" Rader, Kansas City, MO; daughter, Linda Hickey and husband, Garry, Virginia Beach, VA; son-in-law Al Castro, Miami Beach, FL; nine grandchildren, Kristina (Brian) Goodfellow, Sam (Michelle) Rader, Jr., Kelly Rader, Melinda Haney, Michelle Rader, Robert Hickey, Bryan Hickey, Aaron Hickey and David Castro; several great-grandchildren; sister Betty Jo Sellars, Ravensdale, WA, several nieces and nephews other relatives and many friends. 
Visitation: 6:00-7:00 p.m. with Funeral Service at 7:00 p.m. Friday, May 17th at Hixson-Klein Funeral Home, Gower
Burial: 2:00 p.m. Saturday, May 18th at Alva Municipal Cemetery, Alva, Oklahoma.

---