Alvin E. Kelley
Date of Death: 07-19-2019
Funeral Service : 07-22-2019
---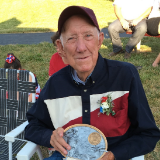 Alvin Eugene Kelley, 94 of rural Weston, MO passed away July 19, 2019. 
He was born on July 11, 1925 to Ermon Wesley and Neva Flora (Ruble) Kelley in Rushville, MO where he grew up and attended school. He then served his country in the US Navy in the South Pacific during WWII. After his honorable discharge he returned to Rushville, MO.
On October 9, 1948 he was united in marriage to June Lovelace. After their marriage they lived near DeKalb, MO and in 1953 they moved near Camden Point. In 1993 they moved to rural Weston where they made their home. June passed on January 24, 1999. 
Alvin was a past member of the Masonic Lodge and was a current member of the Fox Hunters Association for over 50 years. He was also a member and co-founder of the Camden Point Fire Department and the Camden Point Ball Association. Alvin was a lifelong farmer and enjoyed his hunting dogs and coyote hunting. Most of all he enjoyed spending time with his family. 
He was also preceded in death by his parents, his brothers Alfred, Donald and Arvin Kelley and sisters Mary Sue Munsterman, Maxine Palmer, and Ermadean Brown.
Alvin is survived by his children Brenda Bledsoe, Pat Kelley, Mike Kelley and wife Debbie, Janie Jamison and husband Norman and Randy Kelley; numerous grand, great-grand and great-great-grandchildren; sisters Jean Hull and Janet Higgins and husband Jim; several nieces and nephews, other relatives and many friends. 
Visitation from 4:00-7:00 p.m. with Funeral Services at 7:00 p.m. with Military Honors, Monday July 22nd at the Dearborn Community Center in Dearborn.
Donations may be made to the Pleasant Ridge Cemetery.

---