Alva Elmer "Sonny" Sallee, Jr.
Date of Death: 05-25-2022
Funeral Service : 06-25-2022
---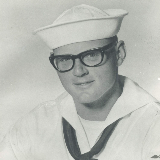 Alva Elmer Sallee, Jr., better known as 'Sonny' passed away at the age of 71 in Dearborn, MO. 
He was born on April 18, 1951 to Alva Elmer Sr. and Ruth Ida Sallee in Kansas City. After graduating from North Platte High School in 1969, Sonny enlisted and served as a Gunner's Mate for four years of active duty in the Navy during the Vietnam War. This was an immense source of pride for Sonny for the duration of his life. 
Upon his discharge from active duty, Sonny attended Missouri Western State College where he achieved his bachelor's degree in criminal justice. He married Mary Burke Sallee on August 10, 1979 and they later had two daughters together, Erin and Stephanie. 
Sonny was known for many things, including his love of his family, his sense of humor and his unwavering work-ethic. His time in the Navy inspired a love of adventurous travel that he shared with his family on trips around the country and abroad. 
A jack-of-all-trades, he never saw a problem he couldn't fix, could always find the overlooked value in objects, and loved sharing his knowledge and experience. 
Sonny liked to show care for loved ones by preparing generous portions of uniquely crafted dishes. He took great joy in his land and spent endless happy hours exploring, hunting and fishing, and gardening on it. He also took pride in the series of chocolate labs that were his constant loyal companions.
He is survived by his wife, Mary Sallee, his two children, Erin (Michael Moran) and Stephanie (Desmond Mallonee), two grandchildren, Finnegan and Brienne Moran and his brother David J. Trimmer (Paula Trimmer). 
Sonny's celebration of life will be June 25th at 12665 NW 126th Court, Platte City, Mo. from 2:00pm-5:00pm.

Donations may be made to Friends of Parkville Animal Shelter (FOPAS) PO Box 29121 Parkville, MO 64152 or Cameron Veterans Home c/o Barbara Caldwell 1111 Euclid Ave Cameron, MO 64429
---