In Remembrance of Phyllis Edwards

Phyllis Edwards
Date of Death: 06-28-2018
Burial: Community of Smithville Memorial Cemetery
Funeral Service : 07-01-2018
---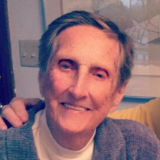 Mary Phyllis Edwards, 91, of Smithville, MO., passed away, Wednesday, June 28, 2018.
She was born on July 16, 1926 to Elmo and Nora Lee (Dennis) Breckenridge in Smithville, MO. 
Phyllis grew up in Smithville and graduated from Smithville High School.
On January 20, 1945 she was united in marriage to Robert Franklin "Bob" Edwards. After their marriage they lived in Smithville where they made their home. Her husband, Bob, passed away, March 1, 2014.
Phyllis was the Clerk for the City of Smithville for over 25 years. The City Hall in Smithville was named in her honor for her years of service and dedication to the city. She was a member of the First Christian Church in Smithville. Phyllis enjoyed her bridge and rummy royal clubs.
She was preceded in death by her parents, three brothers, Harry Dennis Breckenridge, R.E. Breckenridge and Glenn Howard "Bromo" Breckenridge; son-in-law, Carl "Butch" Rick and grandson-in-law, Shane Thomas.
She is survived by her sons; Terry Edwards and wife Shirley and Phil Edwards and wife Nicki; daughter, Lee Ann Rick, all of Smithville; four grandchildren, Kelly, Gay Lynn, Brent and Brandi; six great-grandchildren, Taylor, Chase, Alyssa, Ryan, Baylie, and Sterling; several nieces and nephews other relatives and many friends.
Funeral Service: 2:00 p.m. Sunday, July 1st at the Hixson-Klein Funeral Home, Smithville with visitation one hour prior to the service.
Burial: Community of Smithville Memorial Cemetery
Donations may be made to the Smithville Senior Center.

Tweet
Share
Link
Plus
Pin
---