In Remembrance of Pat DeMoss

Pat DeMoss
Date of Death: 04-29-2021
Burial: Grayson Cemetery
Funeral Service : 05-04-2021
---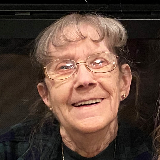 Patricia (Pat) Ann DeMoss left this world peacefully at Liberty Hospital on Thursday, April 29, 2021 at 8:05 p.m. surrounded by her daughters. 
Pat was born on March 12, 1944 in Kansas City, MO to Mary Gladys (McCain) and Arthur Max McCarthy. She was the oldest of four children and grew up just south of Gower, MO. 
On June 9, 1967 she married David DeMoss and raised three daughters in their home in Plattsburg, MO. 
Pat worked in the dietary department of Spelman-St Luke's Hospital in Smithville, MO for over 20 years, retiring in 2009. 
Her passion was spending time with her family and she so enjoyed her trips to Disney with the grandkids, the many girls trips she was able to take with her daughters and granddaughters, and when the grandkids would drive her to doctor's appointments and take her for sweet tea or ice cream. 
Pat was preceded in death by both her parents, her husband of 40 years David, sister Donna McCarthy, and brother Jim McCarthy. 
Survivors include her three daughters, Phyllis Kage (Mark) of Kearney, MO, Karen Jackson (Laine) of Kansas City, MO, and Sharon DeMoss of Plattsburg, MO; her niece that she loved like a daughter, Tracie Underwood (Rick); her most cherished grandchildren, Allison Brown, Travis Brown, Taylor Jackson, Megan Jackson, Aaron McCarthy, Trinity McCarthy, Lee Stichler, and Tyler (Hayden) Ford; great-granddaughter, Genevieve Ford; and last but not least her furry friend Gracie the cat. 
Visitation: 6:00-7:30 p.m. Monday, May 3rd at Hixson-Klein Funeral Home, Gower.
Funeral Service: 11:00 a.m. Tuesday, May 4th at Hixson-Klein Funeral Home, Gower.
Burial: Grayson Cemetery
Donations may be made to the Grayson Cemetery.
Tweet
Share
Link
Plus
Pin
---