In Remembrance of Éowyn Maynes

Éowyn Maynes
Date of Death: 05-13-2018
Funeral Service : 05-20-2018
---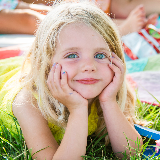 Éowyn Maynes, 5, of Smithville, MO passed away peacefully in the arms of her Mom and Dad, and surrounded by her sisters, grandparents, and friends, Sunday, May 13, 2018.
She was born on September 10, 2012 to K.C. and Amanda Jane (Vanderpool) in Liberty, MO.
Éowyn was happy and sassy and as active as she could be right up to the end, playing with her friends on the playground on Thursday and graduating from Grace Community Church Preschool on Friday. We are grateful that of the 342 days since her diagnosis with DIPG Brain Cancer, so many of them were good ones. From Disney World to Colorado to all the quality time we spent with family and friends, we count ourselves blessed to have shared these things with Éowyn. Her life was short, but rich and full of love.
She was preceded in death by her great-grandmother, Lora Vanderpool.
Éowyn is survived by her parents, K.C. and Amanda Maynes, sisters, Rhiannon, Delainy, and Avery; grandparents, Jim and Vicki Maynes and Charles and Terry Vanderpool; uncle Trae Vanderpool and wife Sara; cousins, Coleman, Luke, Braylen; honorary family, Andrew, Molly and Alice Wilson, and Gayla Huffman; other relatives and many friends.
Visitation: 6:00-8:00 p.m. Friday, May 18th at Grace Community Church, Smithville, MO.
Funeral Service: 2:00 p.m. Sunday, May 20th at Grace Community Church, Smithville, MO.
Donations may be made to Fight Like a Princess, PO Box 128, Smithville, MO 64089.
Arrangements, Hixson-Klein Funeral Home, Smithville.
Tweet
Share
Link
Plus
Pin
---