In Remembrance of Nancy M. Streeter

Nancy M. Streeter
Date of Death: 10-14-2019
Burial: Greenlawn Cemetery
Funeral Service : 10-17-2019
---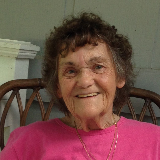 Nancy M. Streeter, 87, of Plattsburg, MO passed away in the comfort of her home on October 14, 2019, surrounded by family and loved ones.  
Nancy was born April 14, 1932 in St. Joseph, MO to Wilber Benjamin & Elmetta (Mitchell) Heffner.She grew up in rural Plattsburg on Springtown Road. Nancy was a lifelong resident of Plattsburg.  
On July 3, 1949 she was united in marriage to Billie Joe Streeter and together they built their family in her hometown. After Joe's death, she found love again with Garland Ford. He became her very dear friend and companion. The couple spent many committed years together. 
Nancy was a lifelong member of the United Methodist Church of Plattsburg and a charter member of the Plattsburg American Legion Auxiliary since 1968. 
For many years she worked as a seamstress and a quality control supervisor for a local garment factory. After her career in manufacturing, Nancy devoted herself to her family and community. She gained the nickname of 'Pinky' for her love of all things pink. She enjoyed quilting, drawing, bird watching, crafts and making special and unique gifts for her family and friends. Nancy had an unconditional love for her family and was a cherished mother, grandmother, aunt and friend.  
Nancy was preceded in death by an infant son Bobby Joe Streeter, her parents, three brothers, and six sisters. Nancy is survived by her daughters Shirley Boner and Sharon Wilson; four grandchildren Shawna Boner, Joe Boner, Rick Herron and Carrie (Ivan) Harris; two great-granddaughters Bobbi (Shai) Bozarth and Aimee McLallen; sister Wanda Belk; many nieces and nephews, close relatives, and many friends.  
Visitation: 6:00-8:00 p.m. Wednesday, October 16th at the United Methodist Church of Plattsburg.
Funeral Service: 11:00 a.m. Thursday, October 17th at the church
Burial: Greenlawn Cemetery, Plattsburg.
Donations may be made in Nancy's memory c/o the funeral home.
Arrangements by Hixson-Klein Funeral Home, Gower

Tweet
Share
Link
Plus
Pin
---