In Remembrance of Mitchell "Mick" Williams

Mitchell "Mick" Williams
Date of Death: 05-15-2021
Funeral Service : 05-15-2021
---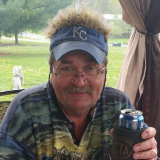 Mitchell (Mick) Lain Williams passed away in his home on May 15, 2021 in Smithville, Missouri, where he resided with his loving wife, Terri Williams. 
Mick was a devoted and adored husband, father, grandfather, brother, uncle and friend. 
Mick was born in Elmo, MO to the late Joseph and Ailene Williams. He moved to the Kansas City area in 1951, where he later met the love of his life, Terri. Mick and Terri married on September 27, 1984. They relocated to Cheyenne, WY in 1988, where they spent countless days enjoying the Great Outdoors. They returned to Smithville, MO in 1995 to be closer to family. 
Mick was a true Renaissance man with deep knowledge and interest in a wide breadth of topics. Whether maintaining his fleet of 60-year-old tractors, restoring classic cars, improving his home or expertly crafting woodwork, Mick enjoyed hands-on work and could make or fix nearly anything. Mick was a consummate outdoorsman—he enjoyed hunting, camping, and fishing at any opportunity. Mick was known for his ability to connect with anyone and will be remembered for his laugh and warm-hearted spirit. 
Mick is survived by his wife of 36 years, Terri; his son, Brandon Williams; daughters, Mindy Williams and Shannon Boone; son-in-law, Dan Boone, grandchildren, Dakota Williams, Shandie Boone and Lucas Boone; sisters, Linda Hohimer, Jeannie Moore, Lori Martinek; mother-in-law, Dixie Dickerson, as well as many nieces and nephews. 
Per Mick's wishes, a celebration of life will take place at a future date. In lieu of flowers, please consider donations to Pheasants Forever with a note in the memo stating "Memorial - Mick Williams," in honor of Mick's love of the outdoors and hunting. Mail to: Pheasants Forever; 1783 Buerkle Circle, St. Paul. MN 55110

Tweet
Share
Link
Plus
Pin
---