In Remembrance of Mildred Ottinger

Mildred Ottinger
Date of Death: 02-06-2021
Burial: Frazier Cemetery
Funeral Service : 02-11-2021
---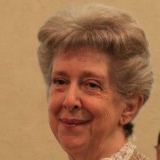 Mildred Ottinger, 81, of the Gower area, passed away, February 6, 2021.
She was born on July 2, 1939 to John Franklin and Sofia Vallentine (Selle) Obermier in Rushville, MO. Mildred grew up near Halls, MO and graduated from Benton High School.
On September 21, 1963 she was united in marriage to Vernon Dee Ottinger. After their marriage they made their home in the Gower area.
Mildred was a member of the St. Joseph Catholic Church in Easton where she was a member of the Altar Society. She taught Religious Education at St. Patrick's in St. Joseph for many years.
She was preceded in death by her parents, Rosemary Sonnenmoser, Gene Obermier, John Obermier, Edwin Obermier Sr, and son-in-law Marty Paxton.
Mildred is survived by her husband, Vernon; children, Dennis (Sheila) Ottinger, Doug (Christie) Ottinger, Debra Paxton, and Darren (Taunya) Ottinger; grandchildren, Thomas, Kathryn, Johnathan, Duncan, Alyssa, Ethan (Tesla), Emily, Amanda, Jessica, Olivia, Noah, Alec, Cross, Drake, and Cooper; four great-granddaughters, Gracen, Adalynn, Halle, and Amara; brother, Craig Obermier; sister, Marjorie Obermier; and sister-in-law, Marilyn Littlejohn; several nieces and nephews, other relatives and many friends.
Mass of Christian Burial: 10:00 a.m. Thursday, February 11th at St. Joseph Catholic Church, Easton, MO.
Rosary: 6:00 p.m. with Visitation from 6:30-8:00 p.m. Wednesday, February 10th at Hixson-Klein Funeral Home, Gower.
Burial: Frazier Cemetery.

Tweet
Share
Link
Plus
Pin
---