In Remembrance of Michael O'Donnell

Michael O'Donnell
Date of Death: 08-12-2019
---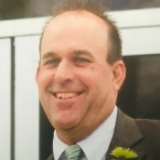 James Michael O'Donnell, Jr., 55 of Kansas City, MO passed away peacefully on August 12, 2019 at St. Luke's Hospice House in Kansas City, MO.
Michael was born in St. Louis, MO on January 21, 1964 to Ellen (Ogle) Moore. He grew up in Rolla, MO but spent the majority of his adult life in North Carolina as an Ironworker. He was very proud of his life's work. He loved showing new Ironworkers the ropes and was especially proud to be a member of the Local 10 Ironworkers Union in Kansas City. He loved hunting and fishing, golfing, cooking and gardening.
In 2010, he renewed a friendship from grade school with Lori Moss and on September 12, 2014, they were united in marriage. They made their home in Kansas City.
He was preceded in death by his brother Jeffrey and his step-father Robert "Bob" Moore.
Michael is survived by his wife Lori; his mother Ellen (Ogle) Moore; sister Julie (Dan) Phillips; nephew Philip Delsignore; very close friends Mack and Carol Rodman; in-laws Lou and Jeannie Moss; brothers-in-law Doug (Joann) and Steve (Dawn); and several nephews and nieces.
No services will be conducted at this time.
Memorial are suggested to the Mission, 708 N Main St., Rolla, MO 65401 
Arrangements Hixson-Klein Funeral Home, Smithville

Tweet
Share
Link
Plus
Pin
---