In Remembrance of Michael DiGirolamo

Michael DiGirolamo
Date of Death: 09-25-2019
Burial: Leavenworth National Cemetery
Funeral Service : 10-01-2019
---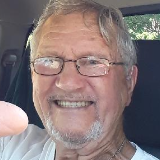 In loving memory of Michael A. DiGirolamo, 84, of Kansas City, Missouri went to be with the Lord on September 25, 2019.
Michael was born to Joseph DiGirolamo and Agnes (Wilhelm) on May 31, 1935 and was the youngest of seven children. He is preceded in death by his parents, brothers; Joe, John, Bud and sisters; Mary (DeGraeve) and Margaret (Raysik), and leaves behind one sister, Dorothy (Audsely) of Raytown, MO.
Michael graduated from Glennon High School, served in he United States Air Force at Richard-Gabuar, Air Force Base. He later lived and worked in Alaska 5 years and then married in 1959. He shared a joint venture cargo trucking business with his former brother in Kansas City's east bottoms until the early 1980's. Thereafter, he moved to reside in Arizona where he performed ornamental wrought iron work for residential and commercial properties. There he met and shared a profound love with Lorraine Spencer of Wisconsin until moving back to Kansas City in early 2018. He spent his remaining days with family and friends. Michael will be remembered for his sparkling eyes, as blue as the sky, his beautiful smile, as big as his heart and his never ending love of Jesus Christ. 
Michael is survived and will be remembered by his five children, Michelle O'Brien, Carolyn & (Russ) Howard, Mary & (William) Greer, Jodi & (Steve) Tyne and Michael & (Elvia) DiGirolamo. Grandchildren; Christina O'Brien, Alana Rae Arnone, Amanda (Austin) Thomas, Ashley Tyne, Chase Tyne, Anthony Greer, Gia Gasca, Aryanna DiGirolamo, Julianna DiGirolamo and Michael DiGirolamo III. Along with many nieces, nephews, cousins, relatives, friends and dog, Cooper.
Intimate family gathering will be held on Tuesday, October 1, 2019 at 2:30pm. Interment will be at Leavenworth National Cemetery, Leavenworth, Kansas.Arrangements by: Hixson-Klein Funeral Home, Smithville, Missouri.
Tweet
Share
Link
Plus
Pin
---