In Remembrance of Maryln Roan

Maryln Roan
Date of Death: 04-27-2023
Funeral Service : 05-04-2023
---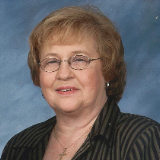 Maryln Kay Roan, 74, of Edgerton, MO went home to the Lord on 4/27/2023.
She was born to Virgil and Helen (Ray) Roach on August 2, 1948 in Grant City, MO.In June 1966, she married Larry Brown. To this union two daughters were born. They later divorced.
In October 1996, she married Richard Roan, and gained two step-daughters. He survives in the home.
She worked her entire career in the financial industry, beginning in 1966 with First Trust Bank, St. Joseph, MO and retiring from CoreFirst Bank, Topeka, KS in 2010. She served many banking organizations throughout her career and enjoyed working with and teaching others in the industry. 
She enjoyed crocheting, traveling with her husband, cooking for neighbors/friends, and most of all, her grandchildren. They were her heart.
She was preceded in death by her parents. 
 Survivors include: sisters, Judy Herndon (Chuck), Stewartsville, MO; Ramona Fry, Apache Junction, AZ; Leta Thompson, Atlantic, IA; daughters, Melanie Wickam (Anthony), St. Joseph, MO, and Marcie Toombs (Joel), Platte City, MO; step-daughters, Cassie Roan, Olathe, KS and Lesley Newton (Robert), Lawrence, KS. Eight grandchildren and five great-grandchildren.
Visitation will be from 10:00-11:00 a.m. with A Celebration of Life at 11:00 a.m. Thursday, May 4th will be held at Hixson-Klein Funeral Home in Edgerton, MO
Donations in lieu of flowers can be sent to Edgerton Christian Church, Edgerton, MO.

Tweet
Share
Link
Plus
Pin
---