In Remembrance of Mary Lou Snyder

Mary Lou Snyder
Date of Death: 06-04-2022
Burial: Allen Cemetery
Funeral Service : 06-08-2022
---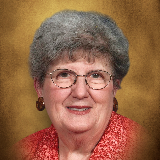 Mary Lou Snyder of Gower, Missouri passed away peacefully on June 4, 2022, at her home. She was 84 years old.
On September 27, 1937, she was born in St. Joseph, MO to Donald W. and Lena F. (Cook) Saunders. She was raised on their family farm in Stewartsville, MO and graduated in 1956 from Stewartsville High School. She was an athlete and a cheerleader which led to her meeting a certain young man from an opposing school in Gower, MO. His name was James F. Snyder.
On May 23, 1959, this happy couple was united in marriage and they made their home in Gower, MO. They had been married 57 years at the time of Jim's passing. The St. Joseph News-Press honored them both as one of the "Top Twenty Who Count".
To this union two children were born. Cindy (John) Crouse and Kenny (Lorie) Snyder.  Six grandchildren, Jami (AJ) Dodge, Heather (Dan) Tangen, Kjoe (Anita) Snyder, Jill (Andrew) Mead, Nicholas (Shannon) Snyder and Jessica (Taylor Wilson) Crouse.  Eight great-grandchildren, Drew Dodge, Lottie Mead, Natalie Snyder, Laynie Mead, Gracie Snyder, Mila Dodge, Kaliyah Snyder, Lexi Snyder and one more great grandchild on the way.
Additional survivors include her sister, Donna Faye Carrel, sisters-in-law Janet Umphress, Jennifer (Charlie) Dennis, a brother-in-law Bob Schildknecht, several nieces and nephews, cousins and many friends.
She was preceded in death by her husband Jimmy, her parents and a sister, Geraldine Schildknecht.
Mary Lou's passion was for Jesus, her family, her church, the Gower Goodtimers, the Gower Convalescent Center, her friends, neighbors and her community. She rarely missed watching a Chiefs or Royals ballgame. She retired from Farmland Industries after 43 years of working in their credit department. For several years, Mary Lou drove her co-workers to and from work in North Kansas City. 
She was beyond active at the First Baptist Church of Gower, MO where she left her handprint and a piece of her heart everywhere she went. She led the high school Sunday School class for years, took the youth on several week-long church camps where she was the cook, she assisted Jim in the Nursing Home ministry for years, she was the choir director and worship leader, funeral home dinner coordinator and many other ministries. She has been described as the Pastor's pastor as she supported and loved all of her pastors and they in return relished her wisdom and love.
Mary Lou and Jim were founders of the Gower Goodtimers where they could be found every Friday night. Mary Lou was known for her amazing ability to host large family dinners as well as for her friends. The annual Goodtimers Fried Chicken dinner and Gospel Show was something she participated in for years.
Mary Lou was active with the American Legion Auxiliary, the treasurer for the Gower Senior Center and currently served on Mosaic's Foundation Nursing Scholarship Committee where she has helped give thousands of dollars to students over several years.
She was her children's "north star" guiding them and leading them to Jesus. She was their biggest fan but could also be a critical coach after a ballgame. She never wanted to miss a grandchild's activity and she looked forward to taking all the grandchildren camping at Roaring River for several years. Most of all, she was the backbone of this family. She will be greatly missed by all.
The family suggests memorial contributions to the First Baptist Church of Gower or to the Gower Goodtimers Scholarship.
Visitation: 6:00-8:00 Tuesday, June 7th at the First Baptist Church of Gower.
Funeral services: 11:00 a.m. Wednesday, June 8th at the First Baptist Church of Gower
Burial at Allen Cemetery, Gower.

Tweet
Share
Link
Plus
Pin
---