In Remembrance of Mary Lee Chiles

Mary Lee Chiles
Date of Death: 09-01-2017
Burial: Goss Cemetery
Funeral Service : 09-09-2017
---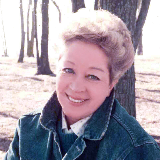 Mary Lee Chiles,88, of Smithville, MO passed away September 1, 2017. She spent her last days surrounded by family and friends and was lifted by the thoughts and prayers of many.
Mary Lee was born on April 19, 1929 to Lee and Theodore Blank in Topeka, KS. She spent her first 13 years there and then moved to Independence, MO where she made lifelong friends and met her future husband David R. Chiles M.D. In high school, Mary Lee excelled in drama and speech, winning state awards in both. She loved to dance. After high school, she attended Central Methodist University for a year, enjoying the study of Modern Dance.
She and David married in 1949, spending six years in St. Louis before moving to Smithville, MO in 1955 where David started his medical practice. Mary Lee said she would stay five years. She lived there 62 years where she raised their six children, made many dear friends, served on city council for 15 years and was executive director of the Chamber of Commerce. Mary Lee and David also mentored several young people, helping them reach their potential. She made the best use of all her talents in everything from child rearing to politics. She was proud to be an American and vote for the first African American President and to get a chance to vote for the first women presidential candidate.
She was preceded in death by her husband David R. Chiles M.D., father Theodore Blank, mother Lee Patton White, step-father Harry J. White, and brother Ted Blank and wife Kate.

Mary Lee is survived by her six children, Patton Chiles, Perrin Riggs (Rick), Penny Chiles, Paula Chiles (Doug Magden), Paige Chiles (Brian) and Dave Chiles (Cheryl); grandchildren Lee Hasegawa, David Hasegawa (Jennifer), and Perrin Carrell (Michelle) and great-grandchildren Hannah and Henry. She was beloved by her family and friends. Mary Lee was a force of nature and will be sorely missed by all who knew her.
Memorial Service: 2:00 p.m. Saturday, September 9th with visitation from 1:00-2:00 prior to the service at Community of Christ Church, Smithville, MO
Private family inurnment.
In lieu of flowers, donations to Macular Degeneration Association
Arrangements by Hixson-Klein Funeral Home, Smithville



Tweet
Share
Link
Plus
Pin
---