In Remembrance of Mary Foster

Mary Foster
Date of Death: 05-23-2019
Burial: Hampton Cemetery
Funeral Service : 05-31-2019
---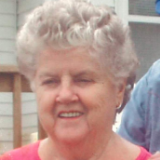 Mary Foster, 91, of Smithville, MO passed away Thursday, May 23, 2019.
She was born on December 22, 1927 to Davis and Euna Bee (Browning) Seuell in Platte County, MO. She attended Lanter Grade School and Platte City High School. 
 On November 16, 1946 she was united in marriage to Byron "Dumpy" Malott. After their marriage they lived near Parkville and in Trimble. In 1968 they moved to Smithville where they made their home. Her husband, Byron "Dumpy", passed away December 26, 1989. On July 14, 1991 she married Raymond E. Foster. After their marriage they lived in Ridgely and in 1999 they moved to Smithville. Raymond preceded her in death on May 16, 2007.
In the 1950's Mary worked at National Bellas Hess in North Kansas City. While living in Trimble, Mary was a homemaker and spent her time ironing for others and baking and selling pies. Mary worked for the Smithville Convalescent Center for 17 years as a CNA. Mary also cared for many people in their homes in the Smithville Community.
Mary was baptized in Elm Grove Church in Hampton and was a member of the Edgerton Christian Church in Edgerton. She enjoyed playing pitch, quilting, gardening, baking pies and country music, especially watching HeeHaw. She loved to attend the Smithville Senior Center, and recently enjoyed playing Bingo at the Smithville Living Center.
Mary was also preceded in death by her parents, her daughters, Linda Pruitt and Judy Gilbride; and nine brother and sisters.
She is survived by her children, Richard Malott and Cindy Malott McMackin and husband Tony; grandchildren, Tyler (Chelsea) VanSickle, Chandler VanSickle, Falon (Eric) Wagner and four other grandchildren; several great-grandchildren and great-great-grandchildren; sister, Norma "Sug" Hoy; several nieces and nephews, other relatives and many friends.
Funeral Services: 11:00 a.m. Friday, May 31st at Hixson-Klein Funeral Home, Smithville.
Visitation: 6:30-8:30 p.m. Thursday at the funeral home. 
Burial: Hampton Cemetery
Donations may be made to the Smithville Senior Center.
A special thank you to Hospice Partners and to Mary's friend, Joyce Jesse, for her many visits and friendship.

Tweet
Share
Link
Plus
Pin
---