In Remembrance of Marlene Lord

Marlene Lord
Date of Death: 03-23-2021
Burial: Second Creek Cemetery
Funeral Service : 03-27-2021
---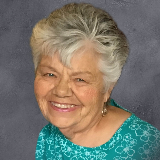 Marlene Avis Lord, 80, of Plattsburg, MO, finished her race on this earth on March 23, 2021. She passed away at her daughter's home in Smithville, MO surrounded by her loving family who cared for her in her final year struggling with dementia.
She was born at home on April 8, 1940 to Gilmore Frederick and Dorothy Lucille (Curtis) Olson in Weaver, MN. Marlene was born two months premature and fit in a shoebox or a small dresser drawer. Her father, who was out running his trap line, when summoned to come home quickly because the baby was coming, replied, "It's too soon!" She spent only one week in the hospital with her mother by her side and then returned to the rural farm home, where everything had to be sterilized for baby Marlene. A challenge for sure in a home without electricity and running water. She survived because of a family and especially a Mother that believed she would.
Marlene was the youngest of the five Olson children. She helped her father milk their cows every morning before heading off to the Weaver School. She loved to garden with her Dad and learned to cook at her mother's side. Marlene graduated from Winona Senior High School in 1958 and then attended the Daniel O'Brien School of Hair Design in Rochester, MN. She later opened Marlene's Beauty Nook in Kellogg, MN. 
On May 14, 1966 she was united in marriage to Charles Lord. They made their first home on the Grand Forks Air Force Base. After Charles was discharged from the Air Force they moved to Smithville, MO where three daughters were born to their union. Charles went to work for TWA and Marlene continued to run Marlene's Beauty Nook in the basement of their home. Marlene, Charles, and girls traveled extensively via TWA and with Charles as the pilot of their own plane. Family time was spent at the airport or in the skies. Trips home to see Marlene's parents and family in MN were frequent. Charles would buzz over the family farm in the plane and her parents would know to head to the airport to pick Marlene and family up for a visit.
Marlene grew an enormous garden every year and shared the bounty far and wide. Together Charles and Marlene planted fruit trees and berries when they moved to their current home in Plattsburg, MO. When they became empty nesters, she would say, "I'm going to downsize now." It never happened. She loved growing things and did not want any of it to go to waste. She always was busy. Her hands were never idle. She was the best cook, and her homemade pies, bread and cinnamon rolls were legendary. She would take enormous pans of cinnamon rolls out to TWA to share with Dad's co-workers.
Crafts, crafts, crafts, she always had one going. She quilted, crocheted, sewed, embroidered, painted, and always shared her beautiful creations with family and friends. Every member of her immediate family has an afghan or quilt created especially for them. 
Marlene and Charles spent the week before Labor Day at the Western Minnesota Steam Threshers Reunion (WMSTR) preparing for the Labor Day weekend WMSTR show. Marlene worked in Maggie's each year buttering Lefse and serving Cinnamon rolls and coffee. Together they would shuttle people around the show or in later years demo their antique TC-12 Euclid Bulldozer in the "The Sandbox."
Charles retired from American Airlines in 2008 and they became "Winter Texans" from December through March each year. They lived in Pharr, TX in a community of fellow TWA/American Airlines retirees. Marlene loved the social events held in their park. 
Marlene never met a stranger. Her beautiful smile was welcoming and her energy and passion for life were evident to all she met. Fifty-five years of marriage to her one and only love Charles, loving mother to her three girls, wonderful mother-in-law to two sons-in-law, beloved grandmother to eight grandchildren are her legacy. 
She was preceded in death by her parents Gilmore and Dorothy Olson; brothers Bill and Paul Olson; brother-in-law Victor Holland; granddaughter Megan Feldmann; brother-in-law Doug Lord and nephew Paul Holland.
Marlene is survived by her husband Charles Lord; daughter Shelly Lord; daughter Kelly (Doug) Feldmann; daughter Kathy (Brad) Smith; grandchildren Grace, Sarah and Savannah Feldmann and Peter, Carissa, Ashlyn and Jacob Smith; sister Thelma Holland, brother Bo (Jan) Olson; sister-in-law Elaine Olson; brother-in-law Richard (Imelda) Lord, brother-in-law David (Rebecca) Lord; sister-in-law Nancy (Ernie) Rabago; sister-in-law Peggy Lord, three nieces, nine nephews and many beloved friends.
Visitation: 12:00 – 2:00 p.m. with Celebration of Life Service at 2:00 p.m. Saturday, March 27th at Hixson-Klein Funeral Home, Smithville, MO. 
 Burial: Second Creek Cemetery, 4214 NW Cookingham Drive, Kansas City, MO 
Donations may be made to Second Creek Cemetery.

Tweet
Share
Link
Plus
Pin
---