In Remembrance of Lois Berry

Lois Berry
Date of Death: 03-29-2023
Burial: Barry Cemetery
Funeral Service : 04-01-2023
---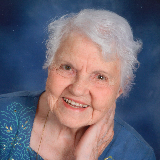 Lois Berry, 99, of Kansas City, MO passed away, March 29, 2023.
She was born on September 29, 1923 to Marion Armstrong and Susan Belle (Veatch) Shields in East Lynn, MO. Lois grew up in Independence and Kansas City where she graduated high school.
On November 27, 1941 she was united in marriage to Robert Berry. After their marriage they lived in Kansas City where they made their home. Her husband passed away, March 2, 1991.
She was the oldest living member of Barry Christian Church in Kansas City where she served in numerous capacities. Lois was a homemaker most of her life and was a natural born artist. She taught ceramics in her home for over 50 years.
She was also preceded in death by her parents, seven brothers and sisters, Earl, Ethel, Clyde, Roxy, Russell, Bernita, and Helen; grandson-in-law, Kevin Kerr.
She is survived by her children, Jeanne (Gordon) West and Robert Michael Berry; grandchildren, Kimberly Kerr, Mark (Laura) West, Jennifer (Ryan) Wirth and Hilary Berry; great-grandchildren, Kaleb (Brittany) Kerr, Kimsey Kerr, Nathan (Roni) West, Alden West, Corbin West, Jaxsen Wirth, Baxter Wirth, Rylee Wirth, Brynn Wirth, Amari Berry, and Jaeston Grant; great-great-grandsons, Keton Kerr and Mackton West; several nieces and nephews, other relatives and many friends.
Visitation: 10:00-11:00 a.m. Saturday, April 1st at Barry Christian Church, Kansas City, MO.
Funeral Service: 11:00 a.m. Saturday, April 1st at Barry Christian Church, Kansas City, MO.
Private Burial: Barry Cemetery
Arrangements, Hixson-Klein Funeral Home
In lieu of flowers, donations may be made to Ascend Hospice or Barry Christian Church.    

Tweet
Share
Link
Plus
Pin
---