In Remembrance of Lloyd Wright

Lloyd Wright
Date of Death: 04-04-2023
Burial: Ridgley Cemetery
Funeral Service : 04-08-2023
---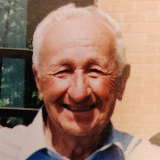 Lloyd Eugene Wright, 91, of Smithville, MO passed away April 4, 2023.
He was born on May 10, 1931 to Charles Raymond and Mary (Garrett) Wright in Loveland, CO. Lloyd graduated from Graham High School in Graham, MO.
On July 23, 1952, he was united in marriage to Gladys Dale Tompkins in Maryville, MO. After their marriage they lived in Barnard until 1955 when they moved to the Kansas City area. In 1989, they moved to rural Smithville where they made their home. Gladys passed away on March 20, 1999. Lloyd married Margaret Ann (Jordan) Atkinson on June 20, 2006. They made their home in rural Smithville, MO.
Lloyd was a cat skinner, truck driver and farmer. He retired from the Teamsters Local Union #41, and was a member of the Operating Engineers Local #101. Lloyd enjoyed hunting, fishing, woodworking and most all visiting with family and friends. 
He was a member of the Ridgely Christian Church where he served as a deacon and usher.
Lloyd was preceded in death by his parents Charles and Mary Wright; his wife Gladys Wright; brothers and sisters Helen Duff, Roy Wright, Hazel Thomas, and Robert Garrett; granddaughter Olivia Wright; and grandson Christopher Wright; daughter-in-law Donna Wright.
He is survived by his wife Margaret Wright; four sons Lloyd J. and wife Kathy, Kenneth Wright, Ralph Wright and wife Tisa and David Wright and wife Candace; grandchildren Donnie, Erik, Jody, Erin, Kyle, Adam, Miranda, Trent and Janet; eleven great-grandchildren; numerous nieces, nephews, other relatives and many friends. 
 Visitation: 10-11:00 am Saturday April 8th with Funeral Services at 11:00 a.m. at Ridgley Christian Church, Ridgely, MO.
Burial: Ridgely Cemetery, Ridgley, MO
Donations may be made to Ridgley Christian Church
Arrangements, Hixson-Klein Funeral Home, Gower.

Tweet
Share
Link
Plus
Pin
---