In Remembrance of Liz McMillian

Liz McMillian
Date of Death: 09-27-2022
Burial: Greenlawn Cemetery
Funeral Service : 10-01-2022
---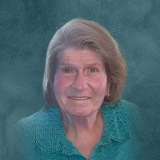 Elizabeth Anne "Liz" McMillian, 69, of Plattsburg, MO passed away at home surrounded by family and friends on Tuesday, September 27, 2022.
She was born to James Clarence and Hazel (Russell) Powers on November 12, 1952, in St. Joseph, MO. Liz attended Plattsburg High School in Plattsburg, MO. 
On September 20, 1969, she was united in marriage to Charles McMillian. After their marriage they lived in Plattsburg where they raised their family and made their home. 
Liz was always taking care of other people. She was a CNA, a Restorative Aide and retired as the Dietary Manager from Gower Convalescent Center after several years. She received the outstanding the CNA Award in 1997. Family was a big part of Liz's life and she loved having a full house. She enjoyed family BBQ's, holidays and family gatherings. Liz was a wonderful wife, was known as Mom and MiMi to many and she will be dearly missed and was loved by all. She is an angel we love very much. 
She was preceded in death by parents; mother and father-in-law Charles and Darlene McMillian; brother-in-law Larry Brown, Sr, and cousins Phil Malone and Larry Malone.
Liz is survived by her husband Charles McMillian; daughter Michelle McMillian; sons James McMillian (Sharlene) and Glenn McMillian (Susan); adopted daughter Christy Parton (Clint); sister Becky Rogers (Donnis) of Sioux City, IA; extended sister Christal Kariker (Ed); cousin Sue Malone; 15 grandchildren, 4 great-grandchildren; mother-in-law Shirley Kimsey; brothers-in-law Bill Brown and Terry Brown (Kelly); sister-in-law Roberta Brown; several nieces, nephews, other relatives and many friends.
Visitation: 6:00-8:00 p.m. Friday, September 30th at Hixson-Klein Funeral Home, 109 N 3rd Street Gower, MO 64454.
Funeral Service: 2:00 p.m. Saturday, October 1st at the First Baptist Church of Plattsburg, 510 W Broadway St. Plattsburg, MO 64477
Burial: Greenlawn Cemetery, Plattsburg, MO.
Arrangements by Hixson-Klein Funeral Home, Gower

Tweet
Share
Link
Plus
Pin
---