In Remembrance of Lewis Waters

Lewis Waters
Date of Death: 01-05-2023
Funeral Service : 01-05-2023
---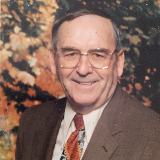 Lewis Richard Waters, 93, of Missouri City, Mo., went to be with the Lord on Tuesday, January 5, 2023. 
He was born on June 16, 1929, in Paradise, Mo. to the late Daniel Rice and Vera Lou (Dray) Waters. Lewis was united in marriage to Ruth Jeraline Gordon on December 15, 1950. They were married for 70 years before Ruth passed away on January 29, 2021.
Lewis is survived by three children: Belinda Turner (Bob Tarver), Richard (Karen Renee) Waters, and Karen Collison (Rob Montgomery); five grandchildren: James (Vicky) Turner, Michael (Abby) Turner, Emiley Collison (Tim Davis), Betsy (Adam) Heaton, and Jonathon J.R. (Kate) Waters, twelve great grandchildren: Kaitlyn Turner, Magdalyn Turner, Noah Turner, Hannah (Jacob) Ulmer, Levi Turner, Jenna Abbott, Dillon Davis, Kara Davis, Tre (Tamara) Heaton, Mason Heaton, Wyatt Waters, and Maisie Waters; and one great-great grandchild, Coraline Heaton.
Lewis is also survived by his sisters: Lucille Meek and Louise (Roger) Ralston and by sisters-in-law Patsy Waters and Sandra Gordon and numerous nieces and nephews.
Lewis was preceded in death by an infant son, Darrell Lewis Waters, by his sisters Louetta Wade, Evvalyne Lloyd, Addalyne Moore, and Juanita Anderson, by his brother David Waters, and brothers-in-law Garland Wade, James Meek, Ray Anderson, Lester Lloyd, and Kenneth Moore.
Lewis proudly served in the U. S. Army from February 1951 to November of 1952 during the Korean War. He served with the 92nd Field Artillery known as "The Red Devil Battalion."  Lewis always remembered the people he met, who they were, where they worked and lived, and who their relatives were. He could tell you a story about each of them. Above all, Lewis was a family man and a farmer. He was employed by Miller Howard, Desert Gold Feed, and retired from Fred Isenhour Farms. His best days were on a tractor for hours at a time, working up a field, watching birds and deer. Then, after his work was done, he was satisfied coming back to a good home that he had made for his loving wife and children. He was a good man and will be missed.
No services are planned at this time.

Tweet
Share
Link
Plus
Pin
---