In Remembrance of Leonard Mosby

Leonard Mosby
Date of Death: 07-23-2021
Burial: Community of Smithville Memorial Cemetery
Funeral Service : 07-27-2021
---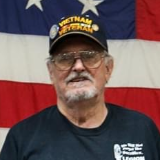 Leonard R. Mosby, 79, of Smithville, MO passed away July 23, 2021.
He was born on October 22, 1941, to Elden Leonard and Lura Maxine (Swaney) Mosby in Smithville where he grew up and in 1961 graduated from Smithville High School. He then served his country in the U.S. Navy during Vietnam aboard the USS Constellation. After his honorable discharge he farmed in the Smithville area and earlier worked for Kenworth Trucking Company as a mechanic. Leonard then worked for T.W.A. and American Airlines as a jet mechanic until his retirement in 2004.
He was a member of the American Legion and the First Baptist Church, both in Smithville. Leonard loved spending time at the Legion with his friends. He enjoyed staying in touch with his TWA friends and spending time at the coyote pen with his brother Ernest. 
He was preceded in death by his parents Elden and Maxine Mosby and brother-in-law Jim Reynolds.
He is survived by his children, Terry (Dawnia) Mosby, Trevor Mosby and Tara (Jimmy) Odneal; grandchildren Megan and MaKenna Mosby, Taryn (Cory) Marmet, Trace and Ty Mosby, Delaney, Deyton, and Drake Odneal; great-grandson Grayson Marmet; brothers Ernest (Marilyn) Mosby, Donald Mosby and David (Jan) Mosby; sisters Karen Reynolds and Cathy (David) Judy; several nieces and nephews, other relatives and many friends.
Visitation: 10:00-11:00 a.m. with Funeral Service at 11:00 a.m. Tuesday, 27th at Hixson-Klein Funeral Home Smithville 
Burial with Military Honors: Community of Smithville Memorial Cemetery
Tweet
Share
Link
Plus
Pin
---