In Remembrance of Lee Faulconer

Lee Faulconer
Date of Death: 06-01-2019
Funeral Service : 06-07-2019
---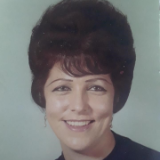 Lee Faulconer, 81, of Independence, MO passed away June 1, 2019.
She was born on May 15, 1938 to Arthur Delmer and Ruth May (Fields) Rogers in Kansas City, MO. Lee grew up in Maple Park, MO and Nashua, MO.
Lee worked at Armco Steel Company and later Lake City Army Ammunition Plant. She loved the Lord and enjoyed sharing her faith with people she didn't know. Lee was a very generous person and loved her friends and family.
Lee was preceded in death by her parents, eight brothers, three sisters, son John and great-grandson Emmit.
She is survived by her son Greg Faulconer and his wife Cammy; twin daughters Lea and Bea; seven grandchildren; eight great-grandchildren; sister Sharon Cummings; several nieces and nephews, other relatives and many friends.
Visitation: 6:00-7:00 p.m. with Memorial Services at 7:00 p.m. Friday, June 7th at Hixson-Klein Funeral Home, Smithville.

Tweet
Share
Link
Plus
Pin
---