In Remembrance of Laurie Marie Farmer

Laurie Marie Farmer
Date of Death: 04-27-2022
Funeral Service : 05-02-2022
---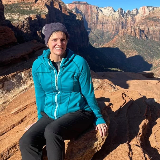 Laurie Marie Farmer, 46, of Smithville, Missouri., returned to her Heavenly Father on Wednesday, April 27, 2022 at Kansas University Medical Center in Kansas City. Laurie was born on April 25, 1976 in Springfield, Illinois, the daughter of Steve and Nancy Leach. She married Jason Farmer on April 27, 2002 in Memphis, Tennessee. Laurie and Jason have two daughters, Alice and Maryn. They were married exactly 20 years to the day.
Laurie was a graduate of Rochester High School and received her degree in Forestry from Southern Illinois University, Carbondale, Illinois. She worked in her profession in a variety of locations from Florida to Alaska before pursuing her master's degree in Wetland Ecology at the University of Memphis, in Memphis, Tennessee. That is where Laurie and Jason met and began their relationship

After marrying in Memphis, Laurie and Jason moved to Collinsville, Illinois. He worked for Parsons and She worked for SCI Engineering. Eventually they both got positions at the St. Louis District U.S. Army Corps of Engineers. In 2013, they transferred to the Kansas City District U.S. Army Corps of Engineers where Laurie worked until she retired in 2020. Laurie loved working for the Corps and always felt like she was part of a larger Corps family. She particularly valued the work she did for the NGA West project and the Kansas City Levees project.

While in Collinsville Laurie and Jason were members of Collinsville First Baptist Church. In Smithville they were members of Grace Community Church. In both locations they have been so blessed to have kind, caring, nurturing, and unbelievably generous church families. She loved all of you dearly. Laurie loved working with kids and she had a servant heart. She assisted with AWANA, ran the AWANA "store", taught Sunday school, worked in the nursery, and volunteered for Grace Adventure Week. This past December, just before she became very ill, she was helping to set up a pantry and clothes station for Afghan refugees.

She was preceded in death by her brother Scott Leach.

Laurie is survived by her husband Jason and two daughters, Alice Farmer and Maryn Farmer, parents Steve and Nancy Leach, sister Leslie Preuss, and brother and sister-law Chad and Rochelle Farmer. Laurie absolutely adored her daughters and always felt so incredibly blessed to be a Mom. 

Laurie's caring spirit and generous heart could be felt by anyone she met. She loved to travel and experienced life to the fullest. She was always planning her next vacation, even while she was on vacation. She never let cancer define her and always fought back against its control over her life. She never stopped feeling blessed and always thanked God for the time she was given. She will be missed more than any words could express but she will be forever in our hearts. In lieu of flowers, Laurie requested that donations be made to Compassion International, The American Cancer Society, or Grace Community Church Children's Ministries (note Laurie Farmer).

Funeral Service: 6:00 pm Monday, May 2nd at Grace Community Church in Smithville with Visitation following until 8:30 pm. 

In lieu of flowers, Laurie requested that donations be made to Compassion International, The American Cancer Society, or Grace Community Church Children's Ministries.

Visitation will also be held on Thursday, May 5th at the Rochester United Methodist Church in Rochester, IL from 9:00am until the funeral service at 12:00pm. 

Burial will follow at Rochester Cemetery.

Tweet
Share
Link
Plus
Pin
---