In Remembrance of Kelly L. Wilcox

Kelly L. Wilcox
Date of Death: 12-16-2018
Funeral Service : 12-21-2018
---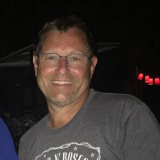 Kelly Lee Wilcox, 56, of Barnard, MO passed away December 16, 2018. 
He was born on March 16, 1962 the son of Lyle "Shorty" Wilcox and Verona "Dottie" Brown. 
Kelly was a very active member of the Barnard community serving on many committees and organizations including the volunteer fire department and city council. He was an avid hunter and outdoors-man, was a die-hard Broncos and Elway fan. He enjoyed camping at Kansas Speedway, Mozingo Lake and riding motorcycles. Kelly also enjoyed playing many years of softball and basketball with his friends. Kelly never knew a stranger and if you were a friend you were family but was never afraid to speak his mind or stand his ground. You could always count on Kelly for a good laugh and the best pranks. He was an amazing son, dad and papa. 
Kelly was everyone's favorite bartender at the Barnard Bar for 20 years. 
 He was preceded in death by his father Shorty Wilcox.Kelly is survived by the love of his life Annette Swaney; children Brandon (Ashley) Wilcox, Rachel Wilcox, Blake Wilcox, Brett Swaney, Dylan Swaney, Remington Wilcox and Brock Wilcox; grandchildren Torri Kephart, Creed Wilcox, Christopher Kephart, Danielle Ebrecht, and Lilyth Ebrecht; mother Dottie (Roy) Brown; sister Kimberly (Rod) Rice; brothers Jay (Larenza) Brown, Scott Brown and Jeff Brown; niece Morgan Rice; nephew Dylan Rice; uncles Jack (Theresa) Wilcox and Kenny (Sue) Wilcox; other relatives and many friends. 
 Visitation: 5:30-8:00 p.m. Thursday, December 20th at Barnard Christian Church, Barnard, MO.
Memorial Service: 1:00 p.m. Friday, December 21st at the church.
In lieu of flowers donations may be made to the Kelly Wilcox Memorial Fund at US Bank.
Arrangements Hixson-Klein Funeral Home, Gower

Tweet
Share
Link
Plus
Pin
---