In Remembrance of Justin Stubbs

Justin Stubbs
Date of Death: 10-18-2023
Burial: Ridgely Cemetery
Funeral Service : 10-23-2023
---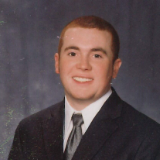 Justin Curtis Stubbs passed away in Kansas City, MO on October 18, 2023, unexpectedly and to the great sorrow of his family and friends. 
Justin Curtis Stubbs was born to Ralph and Barbara Stubbs of Edgerton, MO on March 4, 1985 at Spelman Memorial Hospital in Smithville, MO. He was raised on the Stubbs' family farm alongside his older sister Sara. Justin graduated from North Platte High School in 2003. When not playing sports or in school, Justin played an active role on the family farm and enjoyed spending time with his friends and family. After graduation, Justin attended the University of Missouri-Columbia, where he studied agriculture. He was a member of FarmHouse Fraternity and established many lasting friendships. Justin returned to Liberty, MO where he was fortunate to find wonderful roommates, friends, and neighbors. He developed a love and skill for dealing poker and was a valuable employee at Harrah's and Ameristar for many years. Most recently, he was with Orizon Aerostructures as an IT specialist, a position that he valued very much. His easy nature and loving sense of humor won him many friends and colleagues.
Justin enjoyed so much out of life. Justin found a love of deer hunting that he shared with his father, and a love of mushroom hunting that he shared with his mother. He was a regular at his niece's softball games. He loved enjoying Chiefs football with his friends. Justin rarely missed a family vacation. The memories made and love shared extend far beyond this space and earthly life, and he will never be forgotten. Justin is survived by his parents, Ralph and Barbara Stubbs, his sister, Sara Stubbs Lange (Matthew), and their children, Olivia and Charlie; his paternal grandmother Elaine Stubbs, and many loving aunts, uncles, and cousins. He is preceded in death by his maternal grandparents, B.H. and Bonnie Goodlet, and his paternal grandfather, Curtis Stubbs.
The Stubbs family would like to extend the deepest gratitude to his medical team at St Luke's Rehabilitation Institute and St. Luke's South Hospital, true heroes in their profession.
Funeral Services: 1:00 p.m. Monday, October 23rd at Hixson-Klein Funeral Home in Smithville, MO.
Visitation: 6:00-8:00 p.m. Sunday, October 22nd at Hixson-Klein Funeral Home in Smithville.
Private Family Burial: Ridgely Cemetery, Ridgely, MO.

Tweet
Share
Link
Plus
Pin
---