In Remembrance of Justin Boos

Justin Boos
Date of Death: 08-27-2018
Funeral Service : 09-02-2018
---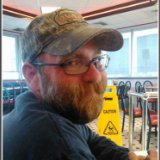 Justin Michael Boos was born August 30,1980 to John and Nicolletta Boos. He passed away peacefully surrounded by his family on August 27,2018.
Justin enjoyed many things, but his favorites involved being outdoors. He loved to go camping, fishing, and hunting and was also a member of Clark County search and rescue. Most of all he loved to be out on his motorcycle. Justin however got the most joy out of anything he did with his family. He was an amazing husband and father. His children describe him as being funny, outgoing, caring, loving, stern and just an all-around great dad who was like a best friend to them. He was at times stubborn and strong willed but had an amazing sense of humor and an extremely big heart.
Justin is survived by his wife Amanda, sons Randy (16) and Aaron (15); daughter Savanna (12); father John Boos and wife Dorothy; his brother Charles "Chuck" Boos and wife Jennifer; sister Mary Boos; as well as his nieces nephews aunts uncles and cousins.He is preceded in death by his mother Nicolleta Boos, as well as grandparents, aunts, and uncles on both his mother and fathers' side.His family will be holding a 
Celebration of his Life on Sunday Sep. 2,2018 at 2:00 pm at Warnock Lake, Shelter number 2 in Atchison, KS.

Tweet
Share
Link
Plus
Pin
---