In Remembrance of Josephine Jackson

Josephine Jackson
Date of Death: 06-03-2022
Burial: St. Joseph Catholic Cemetery
Funeral Service : 06-07-2022
---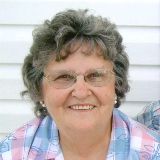 Josephine Johanna "Jo" Jackson, 86, of Easton, MO peacefully passed away June 3, 2022 at Living Community. 
She was born on November 20, 1935 to Peter and Theresia (Halter) Hanway in St. Joseph, MO, where she grew up as one of nine children. Jo graduated from the Convent of the Sacred Heart in 1953. On June 14, 1958, she was united in marriage to Bill Jackson. After their marriage they lived on the farm in Easton where they made their home and spent 56 happy years together. 
Jo was a loving mother, grandmother, and great grandmother. She was a homemaker and worked on the family farm. She also worked at East Buchanan as a substitute cook and worked as an election official. She was a lifelong member of St. Joseph Catholic Church and was the director of catechism. She was an active member of the Church Altar Society serving as treasurer for many years. She was honored with the Community Spirit Award from Catholic Charities of Kansas City-St. Joseph. She was a hard worker, had a big heart, was an excellent cook, loved playing cards, reading, attending auctions, and spending time with family.  
Jo is survived by her children, Wilma Corkins (Fred), Bill Jackson (Sherri), Brenda Cantrell (Keith), and Deanna Schultz (Steve); grandchildren, Becky Flamm (Spencer), Lindee Horn (Ryan), Amber Kriley (Blaise), Zayne, Jayden, and Mya Jackson, Taylor Tommey (Ryan), Tori Jackson (Brendan), Hayden, Connor and Tegan Schultz; great-grandchildren, Olivia and Joey Flamm, Kinnon Horn, Josie, Declan, and Brooks Kriley; Landon and Luke Tommey; numerous nieces, nephews, other relatives and many friends.
Mass of Christian Burial: 2:00 p.m. Tuesday, June 7th at St. Joseph Catholic Church in Easton, MO.
Rosary: 6:00 p.m. Monday with visitation following until 8:00 p.m. at Hixson-Klein Funeral Home, Gower.
Burial: St. Joseph Catholic Cemetery, Easton, MO.

Tweet
Share
Link
Plus
Pin
---