In Remembrance of Joseph E. Chambers

Joseph E. Chambers
Date of Death: 12-15-2018
---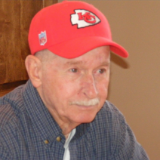 Joseph E. Chambers, 80, of Smithville, MO passed away, Saturday, December 15, 2018.
He was born on June 4, 1938 to Theodore Roosevelt and Dixie Mentt (Siler) Chambers in Ravenna, OH. Joe grew up in Bruner, MO and graduated from Wyandotte High School in 1956. He then served his country in the U.S. Air Force. Joe received his Bachelor of Science Degree in 1972 from Central Missouri State University.
Joe retired from the Kansas City Police Department after 28 years of service.
Joe was preceded in death by his parents, brother, Frank Chambers, and his daughter, Candice Bost.
He is survived by his wife Cynthia, of the home; children, Colleen Brocker and husband Kevin, Joseph Chambers, Jr, and Dan Chambers and wife Tamara; grandchildren, Cody, Tommie Jean, Kellie Dawn, Nicole, Nicholas, Sean, Kim, Erin, Kristin, Kelly, and Kaitlin; several great-grandchildren; brothers, Dave Chambers and Ted Chambers; other relatives and many friends.
Private Family Services will be held at a later date.
Arrangements, Hixson-Klein Funeral Home, Smtihville.

Tweet
Share
Link
Plus
Pin
---